Islington, Greater London (On-site)
£26,348 - £30,223 per year
Job description
Are you passionate about supporting and transforming the lives of people who are experiencing homelessness?
Intro
Hilldrop Road is a registered care home providing long term accommodation, support and care to up to 29 men with a history of alcohol misuse, homelessness and mental health conditions, with related physical health needs. The service has staff working on a rota basis including evenings and weekends as well as bank holidays and sleep-in shifts.
About the role
As a Project Worker, you will be involved in undertaking keyworking activities such as referrals/interviews/booking in clients and housing management activities such as finances, meaningful activities, health and wellbeing. You will assist our clients to develop and care for themselves and build their quality of life by providing advice and guidance on personal development and maintaining their independence. You will lead the support in partnership with Care Assistants in washing, dressing and medication, and support with domestic care including shopping and light housework. You will also provide high quality comfort for clients in their home.
You will be working in partnership with a multidisciplinary team of support staff, specialist staff and external partners and will be responsible for supporting the working shift pattern of the home, whilst holding a case load of clients.
What we're looking for
To succeed, you will either have personal experience of homelessness or a sound understanding of the issues faced by homeless or vulnerably housed people and those with mental illness of substance use difficulties. You should also possess good interpersonal and listening skills, in order to be able to establish an effective working relationship with clients and an eagerness to learn and work with clients in a holistic and person-centred approach. Good numeracy, IT and written communication skills are also required.
Above all we are looking for inspirational, committed individuals who will be committed to our Recovery Ethos, and has a genuine desire to support people to transform their lives.
What we offer
Excellent Development and Growth Opportunities
St Mungo's employees are encouraged to consider opportunities to develop new skills or progress including; secondments, internal transfers, application to new roles in the organisation or just to get involved in various projects happening within the organisation.
As a result last year 35% of our vacancies were filled by promotions. In 2019 we achieved We Invest in People Gold level accreditation and are one of just 3% of housing associations to achieve this standard; 82% of staff who took part in the IIP survey say St Mungo's is a great place to work.
A Diverse and Inclusive Work Place
At St Mungo's, equality, diversity and inclusion are central to the organisation's values and how we work. We are proud of our commitment to diversity and inclusion and have 8 great Diversity Networks to support clients and staff from different backgrounds so they are able to be their best selves. Our Networks include: BAME, Carer's and Parent's, Lived Experience, LGBTQIA+, Disability Awareness, South West, Irish and Women's Action.
St Mungo's is proud to pay client facing staff above average for the sector. We run a cycle to work scheme and also offer season tickets loans to all staff.
St Mungo's contribute 4% of your gross annual salary, and you are able to enrol in the Defined Contribution scheme following a successful probationary period in which the employer contribution is 6%.
For these roles staff can claim an additional 20% pay premium for hours worked between 8pm and 8am Monday to Friday, and all hours worked on Saturday and Sunday.
What we do
At St Mungo's our vision is that everyone has a place to call home and can fulfil their hopes and ambitions. As a homelessness charity and housing association, our clients are at the heart of what we do, and in 2019 we supported nearly 30,000 people who were either homeless or at risk of becoming homeless. Our staff are crucial to making this happen.
How to apply
Please start your online application form by clicking the 'Apply Now' Button on the advert page.
To view the job description and guidance on completing your application form, please click on the 'document available' tab at the top of the advert page on our website.
Closing date: 10am on 3rd August 2022
Interview and assessments on: TBC
It is a requirement for this post that an enhanced DBS disclosure check will be undertaken for the successful candidate.
Please be advised that all appointments will be made on St Mungo's current standard Terms and Conditions (T&Cs); this also applies to any internal candidates.
More about St Mungo's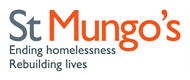 Our vision is that everyone has a place to call home and can fulfil their hopes and ambitions.
As a homelessness ch... Read more
Closed date:
03 August 2022 at 23:59
Tags:
Social Care/Development, Social Work