Job description
People with albinism are being marginalised, mutilated and murdered across Africa simply for the colour of their skin. Join Standing Voice to defend people with albinism against this horrific discrimination and violence.
About Standing Voice
Standing Voice (SV) is the leading human rights charity promoting people with albinism's right to full participation in society and well-being across Africa.
Albinism is a genetically inherited condition resulting in melanin deficiency. Due to misguided beliefs about the condition, people with albinism commonly experience social exclusion and abuse, with over 800 violent atrocities reported across Africa since records began. This social rejection adds to the vision and skin health challenges experienced by this group. SV has registered offices in the UK (London), Tanzania (Mwanza) and Malawi (Lilongwe). We work holistically across our dermatology, vision, psychosocial wellbeing & security and livelihoods programmes to offer a wide range of support to this marginalised group. We have over 8,000 registered service users across both countries of operation, and regularly collect detailed project data using our Commcare database. Our work is informed by evidence-based participatory research, conducted with our beneficiaries and their wider communities for over 15 years. We receive funding from individual givers, trusts & foundations and multilateral agencies including the UN to develop innovative projects that achieve well-evidenced social impact.
About The Role
Standing Voice is looking for a dynamic and driven data management professional to join our team as Data Manager in the UK office. This is an exciting and challenging role in a creative and focused working environment, within an organisation with multiple programmes and funding streams across 3 countries. This position suits an ambitious professional with the right skills and confidence to lead on all aspects of data management for a leading human rights charity. This role also has a strong monitoring and evaluation component; the Data Manager will make use of data findings to monitor and evaluate project impact.
The successful candidate will report to the Executive Director and be tasked with ensuring the charity's data collection tools are running to an exceptional standard and in depth data analysis is being conducted on a regular basis. The Data Manager will work directly with our teams in Tanzania and Malawi supporting data collection in the field, delivering training and mentorship to staff, and resolving any issues with their data handling and collection tools. This aspect of the role shall be undertaken remotely and in person during country visits when required.
The successful candidate will also lead on bringing the impact of Standing Voice's work to life through funder and impact reports, supporting fundraising, managing research projects and handling external communications relating to the organisation's impact and reach. Through doing so the Data Manager will raise the profile of Standing Voice's work on the global stage at UN events and symposiums. In addition, the Data Manager will work with executive management to communicate the impact of Standing Voice's work to trustees, funders and supporters.
Suitable candidates will demonstrate a high level of organisation and accuracy in their work and should be highly experienced in designing and building data capture tools, conducting in depth analysis of data sets and bringing this data to life visually. The candidate should be experienced in using data collection and visualisation software such as Commcare and Tableau.
The successful candidate must have excellent communication skills (and ability to clearly present and communicate data and impact to staff, partners and donors); a strong motivation for career development and learning; and a genuine interest in using their technical skills and passion for data, monitoring and evaluation to impact positively on the lives of the individuals we work with. The Data Manager will occasionally travel to Africa for scheduled training for our implementation teams. The role may also involve travel to meet funders or partners around the world. This role will therefore suit candidates interested in travel opportunities.
This role should appeal to individuals who have a genuine passion for human rights; working with data to improve health outcomes for severely marginalised communities; a commitment to using that expertise to achieve a positive and lasting social impact; and a drive for professional development. Joining our team as Data Manager offers a chance to achieve tangible social change through deploying data, monitoring and evaluation expertise in a vibrant and dynamic working environment.
Important Details
Title
Data Manager
Salary
£33,000-38,000 depending on experience
Hours
35 hours per week (7 hours x 5 days). Flexible working around core hours 10am-4pm
Location
London Fields, London, UK
Remote and hybrid working arrangements will also be considered
Contract Type
Full-time, permanent
Reporting to
Executive Director
Closing Date
Wednesday 31st August 2022 (at 23:30)
Start Date
September / October 2022
Summary of Responsibilities
1. Development of Monitoring, Evaluation and Learning (MEL) strategy
2. Data management
2a. Data collection, troubleshooting and cleaning
2b. Data analysis and visualisation
3. Dissemination and research
4. Training of other staff
Full List of Key Responsibilities
1. Development of MEL strategy
Develop and implement an Impact & Evaluation strategy in line with the overall organisational planning and objectives

Lead a programme of monitoring and evaluation across both individual programmes and wider services delivered across all Standing Voice country offices

Utilise a range of methodologies and approaches (internal and external) to build the evidence base of our work

Support the wider culture of evaluation and improvement by working closely with staff at all levels and country offices to develop knowledge & skills in evaluation and impact reporting

Create Theories of Change for all areas of Standing Voice work, gathering inputs gained at staff consultation workshops

Produce accurate and timely Impact and Evaluation Reports within stated deadlines

Analyse, interpret and communicate monitoring and evaluation information to Senior Managers, Trustees, and funders
2. Data management
2a. Data collection, troubleshooting and cleaning
Manage all aspects of data collection, processing, storing, cleaning and usage at Standing Voice in all countries of operation

Manage a team to enter historical paper based data into the Commcare database

Undertake regular data cleaning to maintain data quality

Streamline data collection procedures where improvements can be made

Lead on the design, implementation and maintenance of all Standing Voice data collection tools (Commcare and other)

Assess data quality through analysis of data accuracy, timeliness, uniqueness, completeness, consistency and validity

Evaluate the success of data entry (completeness and accuracy) and provide regular feedback to individuals, line managers and executive management across country offices to drive improvements

Manage data access permissions in consultation with Executive Management
2b. Data analysis and visualisation
Streamline data analysis procedures to ensure fast access to metrics including initiating data improvements and automation strategies

Undertake in depth data analysis across all Standing Voice programmes to establish progress towards strategic targets and long term objectives using key performance indicators

Maintain database dashboards providing real time data insights

Lead on the design and maintenance of all Standing Voice data visualisation tools (Tableau and other)

Use data visualisation tools to create regular and accurate data visualisations
3. Dissemination and research
Work closely with external partners to develop impact measures that allow us to share the impact of our work widely and robustly

Contribute to Standing Voice submissions to UN reports and other data dissemination channels

Create robust, attractive and accessible evaluation reports which can be used for both internal and external audiences

Play a leading role in defining and implementing research projects at Standing Voice
4. Training of other staff
Lead on the training of Standing Voice staff and volunteers on use of data collection tools, CRM and Excel across all country teams
General responsibilities
Ensure that data management and analysis at Standing Voice reflects the values and the culture of the organisation

Attend partner and funder meetings as required

Participate in external meetings and events in order to remain aware of local, national and international issues affecting data access, quality and compliance

Ensure that data collection and management processes are in line with regulatory standards

Develop and implement policies and procedures for effective data handling and management at Standing Voice

Carry out the duties of the post in accordance with Standing Voice UK policies and procedures
Your Skills and Experience
Essential

Undergraduate degree in a related field (maths, IT, sciences, statistics)
Experience working with datasets

Experience of undertaking evaluation, managing evaluation and measuring impact in a charity or other social change context
Experience of participatory & observational evaluation approaches
Previous experience of contributing to organisation annual and/or service impact reporting
Highly skilled in using data collection and data analysis software
Proficient user of Commcare or a similar software
Proficient in using Tableau and other data visualisation software
Excellent evaluation technical skills (including Excel and IT)
Skilled in the analysis and interpretation of data (qualitative and quantitative)
Good knowledge of statistics
Good communication skills both written and oral
Highly organised with an ability to manage multiple work streams and meet deadlines
Exceptional relationship development skills with an ability to build relationships with a wide range of internal and external individuals and partners
Understanding of research methodologies (including research in Health, Social Care and Community)
Able to convey complex ideas and data in engaging ways to senior and frontline staff alike
Can work both independently and as part of a team on analysis and research projects
Good knowledge of a range of evaluation and impact methodologies (ideally, including Theory of Change and outcomes tools) and other approaches that can be applied to direct practice
Ability to quickly assimilate information and work flexibly across a range of settings and types of work streams
Excellent report writing skills
Excellent ross-team working skills
GDPR knowledge
Demonstrable critical thinking ability
Fluency in English
Excellent IT skills including proficient use of Microsoft Office and Excel
Empower and inspire; be passionate and dedicated; be compassionate and caring; treat others with respect, dignity and sensitivity
Be dynamic and motivated to develop professionally
Act at all times with a high degree of integrity and transparency

Desirable

Master's degree in a related field (maths, IT, sciences, statistics)​
Working in a related position for 3 years minimum
Experience of undertaking evaluations in social care or health settings and knowledge of the related safeguarding and ethical issues
Experienced working with data on public health
Excellent presentation skills
Representing an organisation at the local and national levels
Proficiency in French
Equal Opportunities
Standing Voice considers gender, sexual orientation, race, colour, nationality, ethnic origin, religious belief, disability (or former disability) and age to be irrelevant to our recruitment processes and we do not take those factors into account when selecting candidates.
Application Instructions
Please submit the following by 23:30 on Wednesday August 31:

1. CV

2. Contact details for two referees (your referees must have known you for more than six months and either be a current or former employer, or lecturer)

3. Cover letter (one page maximum) demonstrating A) why you are interested in this position, and B) why you consider yourself to be a suitable candidate, with reference to previous experience

We reserve the right to close this vacancy early if we receive sufficient applications for the role. Therefore please submit your application as early as possible.

Interviews to be held virtually WC September 5, with successful candidate starting in September/October.
More about Standing Voice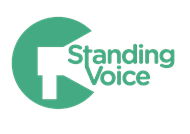 Standing Voice (SV) is an international NGO formally established in 2013 to promote the social inclusion of people in Africa who have the genet... Read more
Refreshed on:
06 August 2022
Closing date:
31 August 2022 at 23:30
The client requests no contact from agencies or media sales.