Bristol, City of Bristol (On-site)
£18,600 per year (full-time equivalent £31,000)
Part-time, Temporary, 9 month contract
Job description
Our new eBike scheme is the first of its kind and is now launched in Bristol. This is a new role, initially for a fixed-term of 9 months, designed to develop an ongoing programme of community and city engagement with Big Issue and Big Issue eBikes. The role will look outward to develop local opportunities and encourage potential service users. It will also respond to operational issues; marshalling youth services and community anchors to ensure the smooth running of Big Issue eBikes.
We are looking for the successful candidate to start as soon as possible. The closing date for applications is 22 July 2022, however we will be interviewing on a rolling basis so recommend that interested candidates apply immediately.
Key Responsibilities
Developing and delivering a programme of community engagement and service user involvement across the range of communities in which we already / are seeking to work, ensuring local community is part of our service design.
Building effective partnerships and relationships new influencers, groups and networks including local organisations, communities, charities, local other relevant stakeholders. Whilst deepening existing relationships with partners Sharebike, Big Issue, funders, city council, regional council, green and travel groups.
Finding key opportunities to promote Big Issue and Big Issue eBikes through local channels and networks, online / offline.
Working with comms and PR role to create professional, positive messaging for meetings / events, press and social media, with clear calls to action agreed.
Inviting key influencers/groups to the depot at Brislington and to eBike events elsewhere in the city, capturing photos/quotes from these events to share on social media and e-news.
Regular reporting to programme partners, including an advisory board which would include reps from youth organisations.
Skills & Experience
Excellent project management skills
Experience of both delivery and speaking to boards and those with influence.
Create and implement innovative and effective initiatives to support community engagement
Enjoy working with stakeholders to deliver change
Experience of educating and empowering community voices
Knowledge of developing pathways for people to engage with and support a cause
Value user feedback and data and use it to inform future work
Experience of successful community engagement in Bristol is desirable
Experience of the micro-mobility / sustainable transport sector is desirable
Salary and Benefits include:
• Holiday entitlement starting at 25 days per year plus bank holidays on top, increasing by 1 day for each year of employment up to 30 days (this is pro-rata for part time staff)
• Company sick pay starting at 5 days of full pay, increasing by 5 days with each year of employment (up to 6 weeks)
• Paid time off to care for a sick child or grandchild and a sick or elderly relation
• Perkpal employee benefits platform offering discounts at over 1500 retailers, cinema tickets, gym membership and legal/financial advice
• Enhanced contribution to our workplace pension
• Enhanced maternity/paternity pay
• Comprehensive flexible working policy open to all staff from day 1 of employment
• Free-of-charge BUPA healthcare cash plan scheme covering everything from dental and physiotherapy costs through to private consultations and scans
• Access to our Employee Assistance programme which includes counselling and a range of therapies
• Life cover - a lump sum for your family or loved ones if the unexpected happens
• Comprehensive programme of professional skills training
Workplace details:
This role is based in Brislington, Bristol, and city-wide.
Big Issue Group is committed to equal opportunities and committed to promoting and enhancing diversity, equality and inclusion. We welcome and encourage applicants from all members of the community and particularly welcome applications from people with disabilities, Black, Asian, or Minority Ethnic backgrounds, LGBTQIA, and from different socio-economic and educational backgrounds.
More about The Big Issue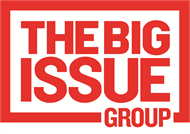 Why Work For Us?
Created as a business solution to a social problem, The Big Issue was founded in 1991 to fight poverty by providing ... Read more
Refreshed on:
11 July 2022
Closed date:
22 July 2022 at 23:59
Tags:
Project Management, Operations
The client requests no contact from agencies or media sales.