£28,840 FTE (pro-rated as £11,536 for 2 days a week)
Contract, 8 month contract, Part-time
Job description
This new role will help shape ECCR's work with churches and individuals, and specifically our resources and offering to Christians from Black Majority churches in Greater London.
About ECCR, the Money Makes Change programme and this role
ECCR is a Christian charity with a vision of a fairer, greener world – where justice and peace flourish, where creation is well cared for and the rights of the vulnerable are protected.
Our Money Makes Change programme empowers Christians to use their voice and finances to shape a fairer, greener world. This might include looking at their choice of bank, how their pension is invested, which companies they buy from or how they advocate for a fairer financial system.
We are increasingly aware that though we work ecumenically (we are a Body in Association with Churches Together in England) and aim to equip Christians from a wide range of churches, we could be doing much more to listen to, serve and partner with the growing Black Majority churches in the UK.
The Covid-19 pandemic has hit Black communities hard, with underlying health, social and economic inequalities intensified. This includes financial inequalities e.g. Black communities have statistically lower levels of savings and assets, higher barriers to accessing financial products, and under-representation in the finance sector. Fundamentally, the way that companies and financial institutions behave affects all of society, but Black and minority ethnic communities are impacted most.
The person appointed will be delivering a new pilot project that aims to empower Christians from Black Majority churches and networks in Greater London to align their finances with their values and be champions of ethical finance, helping make the finance sector and wider society more equitable for people from marginalised communities.
We recognise that given the diversity of Black Majority congregations in Greater London, the role holder may focus the pilot project on working with a specific denomination e.g. the Redeemed Christian Church of God or the New Testament Church of God. This will be discussed at the start of the project and may be shaped by the role holder's own background, contacts and networks.
We are recruiting for an 8-month contract but hope to extend this if longer-term funding is secured.
Role requirements
Develop inclusive, relevant resources and training materials from our existing successful Money Makes Change (MMC) programme, with and for Black Majority church audiences.
Seek input and feedback from the project steering group and key stakeholders to shape the biblical/theological content of resources.
Build relationships with Black Majority churches and networks in Greater London.
Deliver workshops and training in partnership with local churches.
Identify individuals who can act as Champions in their own congregation/community, supporting them to engage and inspire others.
Gather and share stories from those who engage with the programme.
Seek feedback from participants to improve future resources and training, and capture data that can be used to evaluate the impact of the project.
Work with other colleagues to use learning from the pilot project to seek funding for future development.
As a member of the small team of this Christian charity, contribute to and occasionally lead prayer meetings.
Person specification
Knowledge and experience of Black Majority church networks in Greater London.
Passionate about ethical finance and economic justice issues and how Christians can bring about positive change in society.
Able to deliver engaging presentations, workshops and training, and to facilitate group discussions and Bible study.
Able to inspire Christians to connect their faith and their everyday lives including their finances.
Experience in delivering and evaluating a project.
Excellent organisational skills, including attention to detail.
Experience of working or volunteering within the church, charity, campaigning or ethical finance sector.
Able to work some evenings and weekends, and to travel within Greater London.
As the charity is a Christian organisation, this post is covered by an Occupational Requirement (OR) under the Equality Act 2010 in that the successful applicant will be expected to be a practising Christian and will clearly demonstrate a personal commitment to the mission, principles, values and practises of the organisation.
Application Instructions
If you feel that you meet the role requirements, please apply by submitting a CV and cover letter which sets out how you meet the criteria outlined in the person specification. Please submit your application via Charity Jobs.
More about The Ecumenical Council for Corporate Responsibility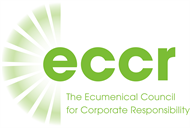 The Ecumenical Council for Corporate Responsibility (ECCR) is a membership organisation working for economic justice, human rights and environm... Read more
Refreshed on:
12 July 2022
Closed date:
10 August 2022 at 18:00
Tags:
Christian, Training
The client requests no contact from agencies or media sales.