Job description
We are looking for a people and process person to ensure outstanding administration of our Compliance, People and Governance activities. You will need previous experience of such a role to be able to hit the ground running. You will pride yourself on attention to detail, excellent communication skills and a hunger for striving for continual improvement. You will be excited by working in a dynamic organisation and committed to cross-team working as a means of engaging staff in operations and people developments.
Areas of Responsibility
Provision of a comprehensive Compliance and People support service encompassing a range of activities including; recruitment & induction, leavers, training, payroll and pensions, sickness absence processes, documentation related to changes to employment etc.
Board meeting preparation, minutes and support such as room bookings, refreshments etc.
Train, support and guide managers in the use of various processes including GDPR, recruitment, Induction, probation and training in leavers processes
Provide generalist best practice advice to line managers and support for specific People-related processes including investigation administration
Co-ordination and administration of HoSBs corporate induction of starters
Provide regular statistical reports on a range of people issues such as, sickness absence, training and development, starters and leavers etc.
Monitor and generate regular statistical reports on GDPR compliance with audits and actions
Carry out GDPR monitoring checks
Assist the Head of Operations with compiling Health & Safety reports & Risk Assessments ensuring compliance documents are up to date on the H&S electronic portal
To keep an accurate track of all DBS renewals and to implement the process of biennial checks to ensure continued compliance
Administer the policy register to ensure compliance on reviews and robust version control
Establish and implement weekly reports to track any compliance actions or documentation that is due to expire and ensuring timely renewal
Support and oversee programme participants on work experience
Personal Specification
The ideal candidate will demonstrate:
Experience of owning and executing policies and processes around a variety of People activities including; recruitment & induction, leavers, training, sickness absence processes etc.
Experience of handling pre-employment checks including references, DBS disclosure, right to work information, visa applications etc.
Experience of Board meeting preparation, minutes and governance support
Understanding the compliance, risk and legislative framework governing HoSB employment and compliance processes
A working knowledge of employment and GDPR legislation
Solid experience of assimilating and summarising key information i.e., formal minutes, written / verbal reports for a variety of setting – The Board of Trustees, formal disciplinary meetings etc,
Experience of using HR information systems
Advanced level IT packages in Excel, Pivot tables, Word
Experience of assisting risk assessments and/or display screen equipment assessments
Ability to remain positive and actively encourage others to do the same during times of change
Experience of presenting oneself effectively and credibly in 1-2-1 and group settings
Ability to help promote a positive organisation culture that respects diversity and inclusivity
CIPD affiliation
Experience of Fire Warden or First Aid duties
High attention to detail and good IT skills, with a working knowledge of Microsoft Word, Excel, Outlook, and PowerPoint
Experience working of HR in hospitality or other retail type environment is desirable
We recognise that the ideal candidate from this role may come from a range of backgrounds or experience and so if you can't demonstrate all of this experience but think you could do the job, we welcome your application.
Commitment to inclusion
We're an equal opportunities employer. And proud of it. Every applicant and employee is afforded the same opportunities regardless of race, colour, ancestry, religion, sex, national origin, sexual orientation, age, citizenship, marital status, disability, gender, gender identity or expression. This will never change.
More About Us
Unique among members' clubs, our vision is of a future where lasting good work, a secure home and a supportive network are a reality for those affected by homelessness. Our mission is to break the cycle of homelessness. We deliver our mission through our Employment Academy, through which participants experience a holistic programme of long-term support, helping them secure good work, a secure home and a supportive network. Underpinning our Employment Academy is our vibrant member's club based in our grade 1 listed building and our beautiful chapel, right in the heart of Soho.
What we can do for you – why working for us is so great
HoSB provides the following great benefits:
The opportunity to make a meaningful impact, playing a part in people's journey towards lasting paid employment
33 days annual leave (including bank holidays)
Half a day extra leave for your birthday so you can celebrate in style
Flexible working hours with the option to work from home (in line with business needs)
Free Barista coffee from our club downstairs(!)
Autoenrollment into our pension scheme
Access to a whole host of amazing talks gigs and events
Attending our amazing graduation ceremonies
How to apply
Please send a covering letter outlining why you would be suitable for this role together with your most recent CV. Any applications received without a covering letter will automatically be repudiated.
Closing date: 5pm, Thursday July 21st 2022
Face to face interviews to take place on: Wednesday 27th July 2022
Please note: Due to the high level of interest in our organisation, we are unfortunately only able to acknowledge the individual applicants invited to interview.
Thank you for your time and interest in this role. We can't wait to hear from you.
More about The House of St Barnabas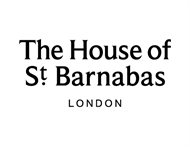 About us
Our mission is to break the cycle of homelessness.
House of St Barnabas i... Read more
Refreshed on:
13 July 2022
Closed date:
21 July 2022 at 17:00
Tags:
Human Resources, Operations
The client requests no contact from agencies or media sales.