London, Greater London (On-site)
Rotherhithe, Greater London
£25,000 - £28,000 per year pro rata to 2 days per week
Permanent, Part-time, 2 days / week, Tuesdays and Wednesdays
Job description
Are you an experienced, creative, and highly organised groups facilitator?
Do you care deeply about the welfare of older adults and isolated older men?
Do you have experience in social care or working with people with a wide variety of needs and abilities?
If you answered yes to all of the above, this could be the role for you!
We're looking for an experienced and skilled individual who will plan and deliver group activities to help reduce loneliness, improve health and wellbeing and increase opportunities for older adults and their carers to connect with their local community, particularly older men and older adults living with dementia.
What we do
Time & Talents is a lively, busy community centre in the heart of Rotherhithe, SE16. Set in a leafy heritage building, and 'T&T2', our second venue in Surrey Quays Shopping Centre, we offer something for everyone. With a history of 135 years of supporting people of all ages in Rotherhithe and Bermondsey, we bring people together for mutual support, fun and friendship, with a wide range of services and activities for older people and other adults, along with volunteering and children and families' projects.
We work with around 400 older adults and their carers a year, many of whom are very frail and elderly. Sadly, though they very often get left out: their friendships and networks disappear, family and friends move away, and they end up very lonely and isolated. Once that happens, mental and physical illness too often follow. We believe that surrounding older adults with a welcoming, nurturing community, is vital to improving and maintaining their wellbeing. We also know they want to thrive, create, feel a sense of purpose, and continue living their lives to the full, for their whole lives.
In response to this we offer one to one support and case-working, befriending, and an exciting programme of social and support groups with fully escorted transport. We also run fun events and intergenerational activities to bring the whole community together. From reminiscence, art, music, and health and wellbeing advice, to outings and new and exciting experiences, no two days are the same.
The role
In this role, you'll deliver three of our existing groups: Ruby Tuesdays, Men's Pub Club and Men's Walking Group. Ruby Tuesdays is a social contact group for people aged 55+ with dementia or memory impairment. The Wednesday Pub Club is a well-established weekly drop-in, social group for men aged 55+ in Rotherhithe and Bermondsey. Sitting alongside Pub Club is a weekly walk around London that was requested by members, providing an opportunity for exercise and social interaction, extending our offer to men who might feel less comfortable with the pub environment.
A key part of the role is involving older adults and carers themselves in the delivery of the programme as volunteers, and involving people of all ages and backgrounds from the local community - from NHS health professionals to local artists and students. You will also need to build individual relationships of trust with older participants, and work closely with rest of the Older Adults team, and the wider T&T team, to ensure we take a joined-up approach to caring for individuals.
About you
The role needs someone creative, energetic, passionate, but importantly, also highly organised. You must be as comfortable making sure a minibus schedule is up to date, as you are delivering craft activities or quizzes, or as comfortable hosting NHS professionals delivering healthcare advice, as you would be helping run an escorted visit to a local city farm. You need to have lots of ideas, and be highly ambitious, but also be able to make your ideas happen.
Most of all, we are looking for someone who cares deeply about the welfare of older adults and their carers, and is able to react quickly and appropriately to emerging issues – especially to the more serious care issues we inevitably encounter. While appropriate training will be given, we are looking for candidates with some social care experience ideally.
About us
We are an energetic, experienced, and passionate team of 17, with a strong sense of shared purpose and a lively sense of humour. You'll have the chance to make a big contribution to a growing, ambitious and innovative organisation which has doubled its reach and impact in recent years.
This role is two days per week on Tuesdays and Wednesdays, with flexibility for regular evening and occasional weekend working.
Time & Talents is wholly committed to inclusion and diversity, and to building a culture and environment where everyone is appreciated for the unique person that they are. We actively encourage applications from a broad range of backgrounds and experiences.
If you would like an informal chat about the job, please email recruitment @ timeandtalents .org .uk with your phone number and a suitable time for us to call.
The closing date is 5:30pm on Wednesday 20th July.
TO APPLY: All applications to be submitted through Charity Job. Send a CV and a cover letter of no more than two sides of A4, explaining why you want the job and how your experience relates to the job description and person specification.
IMPORTANT: We'll use cover letters to assess applications alongside CVs. Please ensure you take the time to include a well-written cover letter as detailed above. We won't assess applications without one.
INTERVIEWS: First round interviews will take place on Thursday 28th July. Shortlisted candidates will be invited to a second interview on Wednesday 3rd August.
Application Instructions
If you need adjustments made to apply via an alternate means, please contact us via Charity Job or the email address above.
More about COPSINS (Consortium of Older People's Services in Southwark)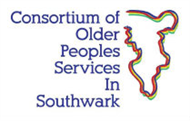 Consortium of Older People's Services in Southwark (COPSINS) was launched in 2012 to support Older People and Carers in Southwark to... Read more
Refreshed on:
05 July 2022
Closed date:
20 July 2022 at 23:30
Tags:
Social Care/Development, Support Worker
The client requests no contact from agencies or media sales.