London, Greater London (Hybrid)
Job description
Job title: Debt Advisor
Reports to: Technical Supervisor/ Advice Manager
Contract type: Permanent
Working hours: Full time - 35 hours per week
Salary grade: £30,000 per annum
Location: Mainly at Toynbee Hall & Greenwich Sites
Deadline: 4th of August 2022

Job Purpose
To provide over-indebted Londoners with free, face-to-face advice that is accurate, effective and tailored to individuals' circumstances
To maintain detailed case records
Keep up to date with legislation, policies and procedures and undertake appropriate training
Main Duties & Responsibilities:
To provide over-indebted Londoners with free, face-to-face advice that is accurate, effective and tailored to individuals' circumstances:

Interviewing those that access our service using sensitive listening and questioning skills in order to allow them to explain their problem(s) and empower them to set their own priorities
Researching and exploring options and implications so that those accessing our service can make informed decisions
Ensuring income maximisation through the appropriate take up of income, including those relating to water charges, benefits, tax and housing
Providing in-depth quality advice and on-going casework, including acting for the client where necessary using appropriate communication skills and channels
Maintaining detailed case records, ensuring that all work meets all auditing and quality standards and the requirements of the funder
To maintain detailed case records

Ensuring that all work meets all auditing and quality standards and the requirements of the funder
Ensuring all case records are written up in a timely manor
Keep up to date with legislation, policies and procedures and undertake appropriate training

Ensuring you complete a minimum of 16 hours/equivalent of technical debt advice CPD accredited training or qualifying activity and maintaining an up-to-date record of all training sessions
Contribute to team

Work to an agreed work-plan, meeting targets and milestones
Prioritise and manage your own workload
Be an active member of the team, identifying opportunities for your own development
Compliance with Toynbee Hall policies and procedures, including health and safety
Demonstrate financial efficiency and value for money throughout work
Ensure that all services comply with equal opportunities and other relevant policies and quality standards and good practice
Other

Travel across London as required, and occasionally the UK
Undertake additional tasks as defined by Head of London-wide Advice
For more information and how to apply, please visit our website via the Apply button.
More about Toynbee Hall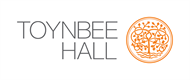 We work on the frontline in the struggle against poverty. Based in the East End of London we give some of the UK's most deprived communit... Read more
Closed date:
04 August 2022 at 23:59
Tags:
Advice, Information, Advocacy
The client requests no contact from agencies or media sales.