London, Greater London (On-site)
£26,200 - £26,757 per year
Job description
You will build and develop a programme of academic community building activities, co-created alongside student leaders and staff. We are looking for someone passionate about community building and working with student volunteers, who is committed to students' development and experiences whilst at University.
The ideal candidate will have a strong understanding of what it takes to build a community. Developing our academic communities is a key priority for students at Westminster. The academic support and foundations around them have a vital impact on their experience and their ongoing opportunities once they leave Westminster. This is a new role and has vast opportunity to shape the belonging and engagement at Westminster.
"Being a FAN has been the most wonderful experience, I have been able to provide support and friendship to new students at Westminster and help them start their University journey on the right foot." – 3rd year Journalism FANS (Friends of Arriving New Students) Student Volunteer
We are immensely proud to state that we are the only Students Union in the country to score 100% positive employee engagement score in the NUS Employee Engagement Survey and have recently achieved Investors in People (Gold). We are a supportive, collaborative team at UWSU and take every step to ensure our staff team feel supported and inspired by the amazing work they do.
We are committed to promoting equity and diversity and strive to be an organisation that values difference and inclusiveness. We are happy to discuss any reasonable adjustments individuals may require in the recruitment process, or once in post. We particularly welcome individuals from an ethnic minority background to apply for this post, as they are under-represented at UWSU at this level.
We offer great benefits to reflect our commitment to the development and wellbeing of our staff:
· A very generous annual leave allowance: 28 days, plus winter and spring closure periods of at least three weeks per annum, and your birthday off!
· Religious holiday leave and/or Charity Days in addition to annual leave
· We provide a significant financial and time commitment to your personal and professional development. We actively encourage our staff to take all opportunities available to them.
· A confidential employee assistance programme
· Commitment to helping you achieve a healthy balance between your work and home life through flexible working
· Interest free season ticket and other travel loans
· Opportunity to learn a language through University of Westminster Polylang programme
· Reduced gym membership
· Reduced complimentary therapies through University of Westminster Polyclinic
You will be joining us as we enter a new phase of our strategy, and as we are growing in every area of work.
We are a multi-campus university in the heart of London, we have four main campuses on Regent Street, Marylebone Road, New Cavendish and Harrow. Although we are across four sites, we have the exciting campus feel.
If you would like to know more or are interested in joining our amazing team at Westminster, we want to hear from you!
We are more than happy to have any informal chats about the role or answer any questions, please contact our People Development Advisor Anna. We would absolutely love to talk to you, and if you have any concerns or would like to discuss any flexible working arrangements ahead of the application, please feel free to do so.
Feeling imposter syndrome? Imposter syndrome is a feeling that you may not be worthy of applying for a role, or that you don't think your achievements are as worthy. It can often appear when applying for jobs, and can disproportionately affect women and people from minority backgrounds. If you identify imposter syndrome symptoms we urge you to recognise this, as we would hate to miss out on a fantastic applicant! You are more than welcome to reach out for an informal chat about the role as mentioned above.
More about University of Westminster Students' Union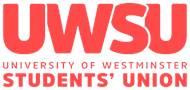 Thank you for your interest in joining the UWSU team!
Westminster University was founded in 1838 as the first polyte... Read more
Refreshed on:
19 July 2022
Closed date:
01 August 2022 at 09:00
Tags:
Project Management, Advocacy