Expert by Experience Board Observer
Contract (One and half days every three months(the half day must be a Thursday) Reporting to Chair of Trustees)
Job description
About the Helen Bamber Foundation

The Helen Bamber Foundation (HBF) is a human rights charity based in London which was founded in 2005. Our specialist team of therapists, doctors and legal experts have an international reputation for providing therapeutic care, medical consultation, legal protection and practical support to survivors of human rights violations whether due to human trafficking; war; community, domestic or gender-based violence to enable a sustained recovery giving our clients the strength to fly. We also share our learnings and expertise with others including the government to improve policy and practice.

HBF is an equal opportunities and Living Wage employer. We are committed to attracting and recruiting diverse candidates as it's important that our trustees, staff, ambassadors, and volunteers reflect the communities we serve at every level within the organization. For this role we specifically need someone with lived experience of the extreme human rights abuses our clients have also experienced.

About the role
Your role will be as an Observer to the HBF Board of Trustees. This means that you will contribute, advise and make recommendations to Board on the work and strategy of HBF, but as you will not be a trustee you are not responsible for the final decisions. The HBF Board of Trustees, is led by the Chair, Charlotte Seymour -Smith, and has up to 9 members at any one time.
Time Commitment

You, as Experts by Experience Board Observers, would be required to attend the Board of Trustees quarterly meetings (i.e. once every three months) which take place on a Thursday afternoon. You would need to read through proposals and updates, and other relevant documents in advance of the meeting. We will also ask you to join a meeting one or two days before the Board meeting in order to discuss your thoughts with your mentor on the Board and with your colleague Board Observer in order that you feel fully prepared and supported. The reading in advance would not need to happen on the same day. We estimate that the total work involved equates to one and a half's full day's work for every meeting. The Board of Trustee holds 5 meetings a year – 4 Board Meetings and 1 Strategy Discussion Day. Therefore, we would be asking you to provide at least 8 days of your time per year. We ask that you commit to the role for a minimum of two years and a maximum of three years.

Whilst we really encourage applications from people who in past have received support from the Helen Bamber Foundation, to avoid any conflict of interest we are not able to accept applications from individuals who are still clients of the Foundation or have received regular support from the Foundation within the last two years. Those who have never been a client of the Helen Bamber Foundation, but have similar lived experiences of extreme human rights abuses are also very much encouraged to apply.

If you are interested but would like to know more about the organisation, the board activities, or how we think this role would work, Charlotte, the Chair of the Board or Kerry the Chief Executive would be happy to talk to you – please contact us on our phone lines.
More about Helen Bamber Foundation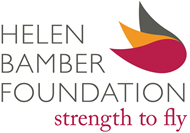 The Helen Bamber Foundation (HBF) is a pioneering Human Rights charity supporting refugees and asylum seekers who are survivors of trafficking ...
Read more
Posted on:
19 August 2021
Closed date:
18 September 2021 at 09:00
Tags:
Management, Governance