Stratford, Greater London (Hybrid)
£33,000 - £36,000 per year
Job description
Your purpose
Your purpose is to expand our reach across the education sector, raising awareness of Voice 21's approach to oracy and our membership offer for schools (Voice 21 Oracy Schools). You will devise and implement a range of multimedia marketing strategies, including via. written communications, videos, audio outputs and events. As part of this you will have oversight of our website content, social media, marketing materials, case studies, newsletters and much more. You will be in charge of showcasing Voice 21's work through compelling branding, messaging, content and stories.
We are growing on average by 30% each year (in terms of staff and the number of schools we work with). You will be part of the Engagement (Growth) team which is at the forefront of this. You will help us play a vital role in growing our reach across the education sector so that - in line with our five-year strategy - we expand from working with 800 schools this year to 1900 schools by 2025.
Your responsibilities
● Creating and implementing marketing and communications strategies to expand our reach across the education sector.
● Devising and delivering purposeful marketing and communications campaigns, tailored to a range of education audiences, via a variety of marketing channels which you will both choose and manage. These might include newsletters, events, social media and more.
● Commissioning, producing and writing content for marketing materials, blog posts and newsletters.
● Creating and implementing a local and sector press strategy to showcase our member schools' work, including building relationships with journalists and sector influencers.
● Showcasing the stories and impact of our member schools in engaging and innovative ways, such as written case studies, graphics, animation and video.
● Developing and writing a range of cutting-edge email newsletters for a range of audiences in the education sector, to raise awareness of our work and the importance of oracy.
● Overseeing the work of more junior marketing and communications team members, and managing outsourced specialists as needed such as website developers, graphic designers, video editors.
More about Voice 21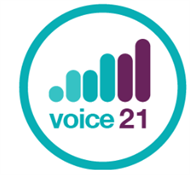 Voice 21 works to ensure that children, regardless of their background, are enabled to find their voice for success in school and in life throu... Read more
Refreshed on:
04 July 2022
Closed date:
15 July 2022 at 10:00
Tags:
Communications, PR, Marketing
The client requests no contact from agencies or media sales.