Stratford, Greater London (Hybrid)
£21,500 - £24,500 per year
Job description
Your purpose
To enable our programmes for teachers to be delivered efficiently and to a high standard. You will be responsible for delivering our participant journey using automated email communications, providing administration and leading on planning to deliver the best possible learning experience for teachers on our programmes.
This is a newly created role in the team and the post holder will play a significant part in shaping it in order to deliver its core purpose. The role may evolve based on the needs of our growing organisation.
Your responsibilities
Participant journey & comms
● Ensure that communications to programme participants are sent in a clear and timely manner, using either automation or other systems e.g. mail merge.
● Use our marketing automation platform (Campaign Monitor) to create and manage participant journeys on our programmes, e.g. sending mass communications, managing mailing lists and triggers within the system.
● Set up and manage processes for programmes, e.g. the booking process.
● Use our Customer Relationship Management (CRM), SalesForce, to create programme records and collect and update participant data e.g. access and dietary requirements.
Programme coordination & delivery
● Arrange all key activities for programmes you are responsible for. This could include in-person training (development days), online events, visits to schools or residential programmes. Manage invites and book venues, reminder/follow up communications, and ensure feedback is captured and collated.
● Communicate with colleagues in the team about their requirements for programmes. Be proactive in identifying what's needed and put it in place, e.g. sending programme completion certificates.
● Find solutions to problems e.g. technical issues in an online course; booking an additional venue due to increased demand.
● Attend programmes/events, either in person or online, to provide support to members of the team leading them.
● Track spending and budgets, creating purchase orders and organising contracts.
Programme improvements
● Track key performance indicators for our programmes (e.g. attendance, venue cost per head, participant feedback) and share these to support decision-making.
● Take ownership of participant experience, finding opportunities for improvement and implementing them.
● Work closely with colleagues in Engagement and Operations teams to smooth the participant journey on our programmes and make it more efficient e.g through use of automation or process improvements.
More about Voice 21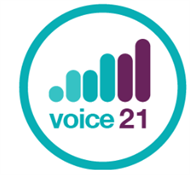 Voice 21 works to ensure that children, regardless of their background, are enabled to find their voice for success in school and in life throu... Read more
Refreshed on:
08 July 2022
Closed date:
12 July 2022 at 12:00
Tags:
Communications, PR, Marketing
The client requests no contact from agencies or media sales.