Organisational Support Officer
London, Greater London (Hybrid)
Contract (Fixed term, 3 years)
Job description
About Us
Voice4Change England (V4CE) is a membership organisation working to build a stronger and more inclusive civil society to meet the needs of Black and Minoritised Ethnic (BME) and other disadvantaged communities by giving out grants, providing infrastructure support for the voluntary and community and social enterprise (VCSE) sector, campaigning on topical issues and policy and collaborating in groundbreaking research.
The Role
V4CE is advertising for an Organisational Support Officer. This role will provide career development opportunities in building good office management/HR systems and contributing to membership development, communications, policy development and the production of strategic reports.
The successful candidate will have excellent organizational skills, strong verbal and written communication skills, and a high level of proficiency in office management and daily operations.
The salary is £30,000 pa. We run a flexible work scheme with opportunities for some home working.
Main Responsibilities
· To manage administration and infrastructure services to help with the development, promotion, engagement and implementation of Voice4Change England (V4CE) work.
· To support Voice4Change England (V4CE) membership onboarding and engagement work.
· To provide administration and infrastructure support for V4CE, ensuring good quality systems and procedures are in place (eg.HR, IT, office admin).
· To contribute to communication, marketing and publicity of events and venue booking and liaising with internal teams.
Please read the attached job description for further information.
Person Specification
Some of the essential qualities we are looking for:
· At least two years office management experience
· Knowledge of what is required to organise administrative and membership systems
· Excellent organisational skills to be able to set up and maintain administrative, membership and HR systems
· Ability to work to managerial direction as well as use initiative as required; good judgement to distinguish when to use initiative
· Knowledge and commitment to the principles of equality and diversity
The following criteria are desirable:
· Personal Assistant experience
· Administrative experience in a small or charitable organisation
· Experience in setting up administrative systems
Please read the attached person specification for further details.
What do we offer?
Our benefits include:
Competitive salary
25 days annual leave plus bank holidays
Flexible working hours
Remote working with travel to London
Pension with 5.5% employer contribution
Support with professional development
How to apply
Please submit a CV and a supporting statement (no more than one side of A4)
Application deadline: 8th October 2023
Interviews: Start of November 2023 (to be confirmed)
Our Commitment to Equality, Diversity and Inclusion
We value diversity and inclusion in our workplace and believe that a diverse workforce brings a wide range of perspectives, ideas, and experiences, which ultimately contributes to the success of our organisation. By embracing diversity and providing equal opportunities, we believe that we can build a stronger, more innovative, and more successful team. We are proud to be an equal opportunity employer and are committed to maintaining an inclusive workplace for all.
If you require any reasonable accommodations during the application or interview process due to a disability or any other reason, please inform us, and we will make every effort to accommodate your needs.
More about Voice4Change England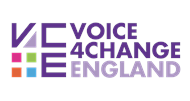 Voice4Change England (V4CE) is a membership organisation with a vision to build a stronger and more inclusive civil society to meet the needs o...
Read more
Posted on:
08 September 2023
Closed date:
08 October 2023 at 23:59
Tags:
Admin, Human Resources
The client requests no contact from agencies or media sales.