Trustee
This organisation is scheduling interviews as the applications come in. Don't miss your opportunity, apply now!
Job description
Could you be a Beacon Trustee?
Beacon is looking for volunteer Trustees to join its Board. Beacon's Board of Trustees is responsible for the overall governance and strategic direction of the charity. As a charity, we need our Board to oversee what we are doing and help us to make sure that we are truly meeting the needs of the people we support.
As a Trustee you will work as part of a team, and will have opportunities to learn new skills, gain insights, and make a valuable contribution to the work that Beacon does. We would particularly welcome young people, and people with lived experience of the places we work in and the issues we seek to tackle.
Trustee roles are part-time, with a minimum commitment of approximately 40 hours per year.
We will support you to settle into the role, offering you a buddy and an observation meeting, if you would find that helpful.
You can find more information in our recruitment pack, or by attending one of our informal Trustee Open Evenings.
The next Open Evening will take place on Wednesday 15th November at 6pm at Beacon's base, 50-52 Middle Hillgate, Stockport.
To apply, please send a CV and covering letter.
If you would find it difficult to apply in writing, please contact us to make other arrangements.
A recruitment pack, including contact information is available to view after clicking "Quick Apply", this will take you to the next page but it will not submit an application until you are ready.
Alternatively, you can contact us by phone and ask to speak to Sandi for an initial conversation.

About Beacon
Beacon is a multi-award winning charity dedicated to improving the mental health and emotional resilience of our community. We believe everyone should have an equal chance of good emotional wellbeing, and this is at the core of everything we do, empowering children, young people and adults to improve their mental health and resilience. We are passionate about our purpose and values, and driven by a desire to see good mental health as the norm in society.
We have been operating for 40 years, and are embedded in the community in Stockport, delivering a range of services in schools, community locations, online and from our base on Middle Hillgate. We support over 3,000 adults, young people and children each year to improve their mental health and wellbeing through counselling, therapy, wellbeing services, group support and targeted projects.
Beacon has over 70 employed staff and volunteers on the team, bringing a wide range of skills to our communities. Our support has never been more needed as people of all ages are feeling the impacts of the pandemic, the cost-of-living crisis as well as global challenges. By helping people to develop the skills and tools to improve their mental health and wellbeing, we aim to empower them to recover and thrive now and in the future.
Our Vision : A society where everyone is able to cope with distress and has the opportunity to enjoy life.
Our Mission : We build resilience in communities by supporting adults, young people and children experiencing mental and emotional distress.
Our Values: Our values are at the heart of everything we do, so it is absolutely vital that our trustees share our values and are committed to ensuring they are alive in our work and embedded in our actions and decisions.
In everything we do, we are:
Respectful We do not judge; we listen and understand
Inclusive We aim to be accessible to everyone and treat everyone as an individual
Friendly We're warm, caring and we'll support you
Professional We care about the quality of what we do and we're committed to self-development
Can-do We are proactive, passionate and find the best way to support you
Self-care We practice what we preach, taking care of each other and ourselves
The Role of Beacon's Trustees
To be responsible for the overall governance and strategic direction of the charity and company, developing Beacon's aims, objectives and goals in accordance with legal and regulatory guidelines.
Beacon Counselling is a company limited by guarantee, and a registered charity, so we are subject to both Company and Charity Law. Members of the Beacon Board are both charity trustees and company directors. They have collective responsibility for Beacon and must ensure that it operates in a manner which: enables it to fulfil the objectives set out in the Memorandum and Articles of Association; pays due attention to charitable and company law; upholds Beacon's reputation; and responds to the needs of Beacon's beneficiaries, providing public benefit.
More about Beacon Counselling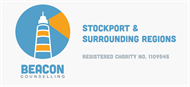 At Beacon, we want to see a society where everyone is able to cope with distress and has the opportunity to enjoy a happy life.Our work builds ...
Read more
Refreshed on:
10 December 2023
Closing date:
24 January 2024 at 23:59
The client requests no contact from agencies or media sales.