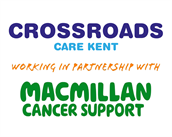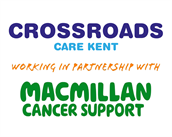 Crossroads Macmillan Volunteer (Multiple Locations in Kent)
Unpaid role, expenses paid
This organisation is scheduling interviews as the applications come in. Don't miss your opportunity, apply now!
Job description
Are you looking for a fulfilling opportunity to volunteer in East or West Kent local or nearby to where you live, directly supporting those who may be lonely or struggling to cope with daily tasks while navigating Cancer?
With over 10 years' experience in supporting connections between volunteers and those living with cancer (and over 40 years' experience as a charity), the Crossroads Macmillan Volunteer Service can offer flexible, rewarding volunteering avenues for you to explore; get in touch today and make an immediate, positive impact on someone's life - a little bit of time can truly make a huge difference.
HOURS: Minimum 1 - 2 hours / week, Flexible
LOCATION: Opportunities across East & West Kent & Medway, flexible / based on volunteer's home location.
DESCRIPTION:
Available volunteer roles include;
Regular visits to a person or couple at their home to offer company and a friendly, listening ear at a difficult time.
Providing transport to a person or couple from their home to healthcare appointments including but not limited to Chemotherapy / Radiology sessions and GP appointments.
Light gardening support.
Subject to the volunteers wishes, some volunteer placements may include support with light housework, shopping support, accompanying a client on a walk or short external trips, practical help with phone calls / form filling, and activities such as playing board games, creating a memory box and similar hobbies that bring both the client and volunteer a great sense of wellbeing.
PLEASE NOTE: All volunteer roles listed above involve visiting a client at their home in some capacity. We currently do not have any volunteer roles that involve working from your home / online.
SKILLS REQUIRED: Good communication, empathy, and the ability to be non-judgmental.
Full Training provided by Crossroads Care Kent.
WHAT WE OFFER: An enormous sense of wellbeing and purpose and an increased understanding of those living with cancer and comparable conditions; just giving an hour or more a week's companionship and practical help can make a huge difference to an unpaid carer and who they care for.
Travel expenses from volunteers' home to clients home reimbursed.
Other Travel expenses reimbursed where applicable.
Other volunteering expenses, such as costs of shopping, also reimbursed.
Volunteer References also available where applicable.
Additional CPD accredited Training opportunities available including but not limited to First Aid, Cancer awareness, Dementia awareness, Mental Health.
Application Instructions
CV not required - please feel free to instead complete our Volunteer Application Form, or contact us directly for more information at the email address provided.
More about Crossroads Care Kent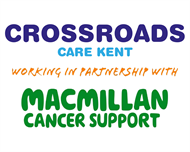 With over 10 years' experience in supporting connections between volunteers and those navigating cancer (and over 40 years' experie...
Read more
Posted on:
27 October 2023
Closing date:
25 January 2024 at 23:59
Tags:
Social Care/Development, Social Work
The client requests no contact from agencies or media sales.