Volunteer Administrative Assistant
Feltham, Greater London (Hybrid)
Unpaid role, expenses paid
This organisation is scheduling interviews as the applications come in. Don't miss your opportunity, apply now!
Job description
Are you interested in a dynamic, varied administration role within the Criminal Justice system?
FCCT are looking for volunteers to help provide administrative support to the organisation.
FCCT offer support under the seven pathways to young offenders (aged 15-21 in HMP/YOI Feltham) under the '7 pathways to Reducing Reoffending'. To do this we use trained volunteer mentors from all over London, where the bulk of our work is done:
Accommodation
Education, Training and Employment (ETE)
Health
Drug and Alcohol Misuse
Finance, Benefits and Debts
Children & Families
Attitudes, Thinking and Behaviour.
Our aim is to help young people overcome hardships and make the positive transition back into wider society and to help to reduce reoffending rates.
Scope of Volunteer Admin Main Role and Duties (not exhaustive):
Help FCCT to develop and complete the 'Mayors Mentoring Quality Framework - Mentoring Quality Framework | London City Hall
Helping to review the organisations governance and legal compliance
Helping to update key policies i.e., Safeguarding, GDPR etc
Attending and taking the minutes of some Board meetings with FCCT trustees
Helping to recruit and manage the FCCT volunteer contingent
Helping to identify and write funding bids
Helping to identify/set up referral pathways and to arrange meetings and facilitate community relationships
Collating and updating and maintaining relevant data
Helping to facilitate effective working relationships with statutory organisations within the prison i.e., Wellbeing Team, OMU, Resettlement, Security, Chaplaincy, Probation etc
We are looking for individuals who demonstrate the following attributes:
Commitment: Shows commitment to the organisation, its values and its clients, understanding that the building of trust and consistency is key, in terms of the clientele FCCT work with.
Communication: Communicates well both verbally and in writing. An ability to communicate effectively with young people would also be an added benefit.
Resilience: Demonstrates patience and understanding in the face of challenges.
Professionalism: Complies with all FCCT policies and procedures, particularly regarding Safeguarding, GDPR etc.
Non-judgemental: Demonstrates empathy and openness and does not impose personal values or conscious or unconscious bias.
Solution focused: Can help to identify issues and meets challenges with optimism and offers solutions, seeing them as an opportunity to learn.
Training and Support
We will provide all the necessary training. Training will be provided on an ongoing basis and volunteers will be given a full induction of the organisation and how the projects run.
More about Feltham Community Chaplaincy Trust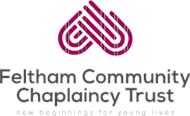 Feltham Community Chaplaincy Trust (FCCT) has been in operation within HMP/YOI Feltham for the last 19 years. The prison is one of the biggest ...
Read more
Refreshed on:
09 November 2023
Closing date:
24 December 2023 at 23:59