Hammersmith, Greater London (Hybrid)
Job description
Service: Perinatal Support for Partners Service
This is a service offering Non-Birthing Partners, of new mothers accessing specialist perinatal mental health services and Maternal Mental Health Services, an evidence-based 1:1 assessment for their mental health & signposting to further support, (including a PSFP peer support group), as and when required.
Role Description:
To support our PSFP Service with a variety of tasks such as conducting a 1:1 assessment, (which includes onboarding to the service), co-facilitating monthly peer support groups, signposting/referrals to other organisations, taking care of our inbox emails and other administrative duties.
Main responsibilities:
To work closely with our PSFP caseworker supporting referral enquires & service-users in accessing this service. Co-facilitating a monthly peer support group.
Tasks:
• To answer emails and enquiries for the service within our service level agreements.
• Triage clients for the service through an onboarding process.
• Co-facilitate a monthly peer support group.
• Provide support to our PSFP caseworkers, as and when needed.
• Keeping meticulous records of interactions with service users.
• Following all policies and procedures, particularly regarding Safeguarding and Suicide Prevention, (full training will be provided).
• Liaise with our marketing lead to ensure the service is being promoted on social media.
• A willingness to undertake training courses.
• Uphold HFEH Mind values and behaviours.
The type of person we are looking for is:
We welcome applications from those completing studies in Psychology, Counselling/Psychotherapy, or any Allied Health Profession with a focus on supporting those with mental health needs. However, your attitude, motivation, and commitment are just as important as your training/qualifications, or any previous experience. We will review all applications individually and assess them on their unique merits, so do not be discouraged from applying if you do not meet all the criteria listed below. We encourage applications from those with lived experience of mental health problems, as well as those from Black, Asian and minority ethnic communities.
Essential:
· An interest in supporting those with mental health needs to access PSFP.
· An appreciation of the complex factors that can precipitate, maintain, and exacerbate mental health problems.
· Good oral and written communication skills (including listening skills); the ability to communicate in a patient, considered, and empathetic manner.
· Excellent organisational skills, with the ability to follow administrative procedures.
· A team player who is willing to chip in and work reflexively, responding to the challenges that arise from working in a dynamic environment.
· IT skills – able to update spreadsheets, use web-based applications, video-conferencing software, and Microsoft Office applications.
Desirable:
· Customer Service experience, including with friends and family.
· Experience of supporting people with mental health needs, in a voluntary, paid, or personal capacity, (i.e., friends and family).
· Previous involvement with local community groups/networks.
· Awareness of the cultural barriers that may exist to seeking mental health support.
Time commitment and expenses:
· 1-2 days per week, during our core hours of 10am-4pm.
Please indicate your preferred volunteering day(s)/time(s) on your application.
· We request a minimum commitment of 3 months of volunteering after the completion of your induction.
· We will provide volunteers with an induction, training, and ongoing mentoring to support them in the role.
· Reasonable travel expenses will be reimbursed.

Why Volunteer at Hammersmith, Fulham, Ealing, and Hounslow (HFEH) Mind?
Volunteering at HFEH Mind is a fantastic opportunity to contribute to the work of a leading national mental health charity. We provide initial and ongoing training, as well as plenty of opportunities for progression within the organisation. You will be treated as a core member of the team from day one and be surrounded by supportive and knowledgeable colleagues fighting for mental health.
What's in it for the volunteer?
Volunteering opportunities have been a route into paid employment within our organisation for many of our previous volunteers. However, the skills and experiences you will gain are likely to support applications for paid employment within the sector more broadly, as well as further training and education opportunities (e.g., Business courses, social work, mental health qualifications).
We are keen to foster the individual strengths and interests of volunteers. With the support of the PSFP Team, we will work with you to ensure that your volunteering experience is meaningful and valuable, whilst balancing the requirements of delivering the service.
How to Apply: Please attach your most recent C.V. and complete our application form here.
More about Hammersmith, Fulham, Ealing and Hounslow Mind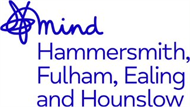 Hammersmith, Fulham, Ealing and Hounslow Mind are a specialist mental health provider and part of the Mind Federation. We provide support to em...
Read more
Posted on:
24 October 2023
Closed date:
26 November 2023 at 23:59
Tags:
Admin, Advice, Information
The client requests no contact from agencies or media sales.