2
Marketing Communications Intern Volunteer Roles in Belfast
How's your job search experience on our site?
Your feedback can help us improve in the future.
This organisation is scheduling interviews as the applications come in. Don't miss your opportunity, apply now!
Job description
About Us
EduSpots connects, trains and equips over 250 local volunteers who drive community-led change in rural Ghana and Kenya through education centers named 'Spots'. Our Ghanaian staff team lead programmes in leadership, literacy development and STEM and sustainability, enabling our local volunteers to impact an estimated 15,000 learners annually in underserved communities. We won the Tes International Award in 2018 marking us as the best international education project in the UK for our global learning work, we were recently selected as a Finalist for the Their World Innovation Scale-Up Awards, and our Founder was selected as a finalist for the Global Teacher Prize in parntership with UNESCO.
Internship opportunity
We are looking for highly independent and self-motivated interns who are keen to gain practical skills and understanding relating to education and international development, and provide wide-ranging support to our team in Ghana and the UK, to enable us to increase our impact in a period of growth.
The internship will be remote for 3 months (start date to be confirmed, dependent on availability), with the opportunity of extending this period. The time is 8 hours / week but this can be spread out throughout the week. Due to limited organisational time, we need interns to be committed to the work, and able to work independently. We will consider interns in any geographical location.
You will gain huge insight into education and international development through learning and being inspired on a daily basis on WhatsApp by our active network of 250 volunteers in rural Ghana who are the main focus of our work and our reason for existence.
Key areas of delivery
We have three areas of internship offer currently:
1. Communciations Intern - working with our Head of Communications on a wide range of communications tasks. You should have strong writing and research skills, alongside beginner design and content creation abilities.
2. Fundraising Intern - working with our Trusts and Foundations Manager and our wider fundraising team. You should have the ability to research fundraising opportunities, edit reports, and support our wider community fundraising strategy through hands-on design work, partnerships development and research.
3. School Partnerships Intern - working with our Educational Partnerships Manager who oversees the Student Ambassadors Programme, where students learn about development, lead an activity in support of EduSpots, and reflect upon their own learning and impact. You would support with researching schools and marketing the programme, creating content relating to the programme to share across our feeds, support our online courses and the wider day to day management of the programme such as the certification process.
Personal specification
We are looking for interns with the following:
Strong communication skills - e.g. written and verbal in English

Strong IT skills - e.g. ability to use Microsoft Office, Google Drive, social media etc.

An ability to work highly independently with minimal support, with the proactivity to reach out to team members when necessary

A genuine interest in learning about education and international development

A team player, willing to listen to others and respond to feedback quickly.

An ability to use Canva design software is desirable

A genuine passion for making a tangible impact on educational opportunity through this role.

You will likely have a degree in an area relating to education and/or international development.

A desire to be part of a supportive and passioante education community, with a specifc interest in community-led change.
Please send a cover letter and updated CV as soon as possible, explaining your key areas of interest and motivation for applying for this role.
Posted on:
31 October 2023
Closing date:
29 January 2024 at 23:59
The client requests no contact from agencies or media sales.
Does something look incorrect in this job listing?
This organisation is scheduling interviews as the applications come in. Don't miss your opportunity, apply now!
Job description
Research & Fundraising Volunteer
Role Profile
Main objective:
To assist with grant writing and research efforts to secure the necessary funding for Indigo's operations
This role requires experience in sales, fundraising and/or events management and reports to Indigo's Marketing Manager.
Hours: 10-20/week
Duration: 4 months
Location: Remote Working (must be based within the GMT to GMT+3 timezones)
Benefits: Being part of a wonderful team and helping amazing grassroots organisations find volunteers. Mentoring support & training related to the role and your development interests. Flexible working hours. There is no financial compensation associated with this role. This role can be accounted as an official internship.
To apply, please fill in the application form on the Indigo website.
Purpose: We are seeking a motivated and dedicated intern to join our team and assist with fundraising initiatives and research efforts. This role is vital in order for Indigo to keep our services running and provide support to our partners, volunteers, and ultimately the refugees we serve. Funding will help us sustain our current operations, and also to grow our pool of volunteers, put on more training for our partners, expand our network of charity organisations receiving Indigo's support and much more. You will be working with and supported by Indigo's fundraising team, and will be expected to meet twice/week to discuss progress.
Responsibilities
Identify potential sponsorship opportunities and assist in developing sponsorship packages to present to local businesses, corporations, and organizations.
Research and apply for relevant grants, funding programs, and sponsorships. The research will also involve calling any relevant groups.
Assist in adapting our fundraising materials, including grant proposals, sponsorship pitches, and donor appeal letters.
Assist in managing donor and sponsor relationships, including maintaining communication, tracking contributions, and providing necessary follow-up.
Help maintain a fundraising database and generate reports on fundraising progress and outcomes.
Collaborate with the Indigo team to set and achieve our fundraising goals.
Provide general administrative support to the team as needed. Skills & Experience
Strong interest in cultural diversity, community engagement, and event planning.
Excellent research and analytical skills, with the ability to gather and synthesize information effectively.
Strong written and verbal communication skills, with attention to detail.
Ability to work independently, proactively and collaborate effectively within a team.
Proficiency in Google functions (Google docs, etc) and familiarity with Salesforce is a plus.
Previous experience in sales is preferred.
Prior experience or coursework in fundraising, nonprofit management, or related fields is desirable but not mandatory.
Interest in working remotely, managing your own time and multitasking.
At Indigo Volunteers we see our differences as our strength. We are committed to cultivating an equal and fair working environment free from discrimination on the grounds of gender, marital status, race, ethnic origin, nationality, disability, sexual orientation, mental health, religion or age. We believe in promoting a sense of belonging, where our people are heard and valued and diversity of experience and perspective is celebrated.
About Indigo Indigo Volunteers is a charity that recruits volunteers, supports grassroots organisations, and creates networks along the European refugee route. We believe in the power of ordinary people, and enable them to work together to support refugees and displaced people. We work within a community of remarkable grassroots charities, volunteers, sector experts, and humanitarian organisations that are positively dedicated to supporting communities coping with displacement, inequality, and social injustice. Have a read about us on our website.
OUR VALUES
1. Human-centred. We put relationships, lasting collaborations and human wellbeing at the centre of everything we do.
2. Humility. We acknowledge that we do not have all the answers; we welcome feedback and strive to continuously learn.
3. Accountability. We follow through on our commitments; we are honest and transparent.
To apply, please fill in the application form on the Indigo website.
More about Indigo Volunteers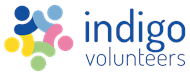 Indigo Volunteers directly and efficiently connects volunteers with humanitarian organisations. Our Mission is to amplify the efforts...
Read more
Posted on:
29 November 2023
Closing date:
27 February 2024 at 23:59
Tags:
Fundraising,Policy/Research
The client requests no contact from agencies or media sales.
Does something look incorrect in this job listing?
Results include remote roles
Filter by workplace to select only on-site or hybrid roles