2
Christmas Coordinator Jobs in Liverpool
How's your job search experience on our site?
Your feedback can help us improve in the future.
Job description
Job Description – Merseyside Schools Coordinator
Job Purpose
The Merseyside Schools Coordinator post is an exciting role with Tutor Trust. You will assist the Schools Manager by liaising with local schools and organising tuition within the Merseyside area. This will include attending meetings, coordinating tuition sessions and arranging tutor cover etc.
You will also support the tutor recruitment and training process in Merseyside and help to ensure that it runs smoothly. You will also maintain and improve systems for the benefit of all our tutors, including ongoing tutor support.
Main Functions
Assist with setting up and managing tuition assignments across multiple primary schools across Merseyside, plus tuition assignments with Looked After Children or those in Alternative Provision.
· Input tuition related data into our Tutor Trust systems to support quality and impact
· Represent Tutor Trust in introductory meetings between tutors and teachers in schools and online
· Assist with general office functions in Merseyside
· Assist in developing closer relations between tutors and opportunities for networking and working together
· Assist in the quality assurance, development and delivery of training for tutors and assist in the recruitment process for new tutors, including short listing and interviewing
· Take part in general induction presentations and other events to promote the Tutor Trust both internally and externally
· Help with preparation for Tutor Trust events aimed at a range of stakeholders
· Participate in project work
· Assist other staff to complete a variety of administrative tasks that enable the Trust to operate effectively and efficiently
· Any other duties commensurate with the grade and nature of the post
Person Specification
Good candidates for this role will be high achievers, with excellent IT and English skills, diplomatic and inter-personal skills and plenty of initiative.
Skills
· Educated to degree level is desired but not essential
· Excellent communication skills with ability to establish a rapport and communicate effectively with stakeholders at all levels and from all sectors
· The ability to work under pressure to cope with multiple demands and deadlines, to work fast and to a consistently high standard
· Be a team player but also able to work independently when required to do so
· Excellent organisational skills
· The ability to manage office systems and contact databases and to use them effectively
· Be able to write fluently, to think clearly and to grasp new concepts quickly.
· To be fully IT literate, particularly to be competent with Microsoft Excel and Access
· Can demonstrate experience of administrative skills in a previous role (either paid or voluntary.)
Attributes
· Demonstrate a commitment to the goals and drivers behind the Tutor Trust
· Enthusiasm and ability to contribute to the successful development of the Tutor Trust
· Have excellent communication and interpersonal skills
· A willingness to work unsociable hours when required
· Willingness to undergo DBS clearance and be committed to Safeguarding children
· Be a team player
· Have strong organisational skills with a commitment to accuracy and attention to detail
· Be able to prioritise and manage tasks
· Experience of tuition/working in schools/working with young people is desirable but not essential
· Knowledge of Merseyside is desirable but not essential
General
The job is based on a permanent contract (after a successful 3-month probation period). Your regular place of work will be the Tutor Trust Office Merseyside, however the position will also involve regular travel to our Merseyside schools and occasional travel to our Head Office in Manchester. Travel to Manchester will be reimbursed.
The hours of work are 40 hrs per week over 52 weeks (Hybrid working currently in operation). Holiday entitlement will be 33 days per annum (inclusive of Bank Holidays) with 3 days of your allocation to be taken over the Christmas period. There will also involve working occasional unsocial hours in evenings and at weekends.
In accordance with our Child Protection and Safeguarding procedures, this position requires an enhanced DBS check and two satisfactory references. It is a requirement for applicants to declare any previous convictions – any disclosed information will be treated in confidence and will not be used against applicants unfairly.
It is an offence to apply for this role if you are barred from engaging in regulated activity relevant to children.
APPLICATION INFORMATION
Closing date for applications: Wednesday 6th December 5pm
Interviews to be held: W/C: 11th December
Salary: £23,500 per annum & Contributory Pension, depending on experience (subject to a successful qualifying period)
Start date: ASAP
Candidates are required to submit a completed application form and a cover letter outlining how they meet the requirements of the role and why they want the role. They must also complete an Equality and Diversity Monitoring form. Please email completed application to our careers email (found in attached Job Description or website) by the above date.
For further information please visit The Tutor Trust Website
The Tutor Trust is an Equal Opportunities Employer
The Tutor Trust is committed to safeguarding and promoting the wellbeing of all children, and expects our staff, applicants and volunteers to share this commitment
More about The Tutor Trust

About Tutor Trust

The Tutor Trust is a registered charity which aims to tackle educational inequality in a uni...
Read more
Refreshed on:
28 November 2023
Closing date:
06 December 2023 at 17:00
The client requests no contact from agencies or media sales.
Does something look incorrect in this job listing?
Job description
Community and Events Fundrasising Officer
We are looking for an enthusiastic individual with a can-do attitude to help us deliver our exciting Community and Events Fundraising programme. No previous fundraising experience is required, just an organised individual with a knack for building relationships, a passion for exceptional 'customer service' and a drive for uniting communities and raising money for charitable causes.
You'll work within the charity's passionate Fundraising and Engagement Team to raise funds to support children and families affected by the childhood cancer neuroblastoma and our vision, for a future where no child dies of neuroblastoma or suffers due to the treatment they receive.
This extremely rewarding role would suit anyone looking to take their first step in their fundraising, marketing or charity career. Don't think your experience directly aligns? Don't worry; we're interested in transferable skills and attitude, so consider and show us how these apply to this role.
Summary of role responsibilities
To help deliver the charity's Community and Events Fundraising Programme, including special events, community fundraising, challenge events, individual giving, and fundraising appeals.
To ensure excellent supporter and donor care and build long-term valued relationships to optimise income generation.
This is a fixed-term role offered on a one-year contract. We are looking for the successful candidate to ideally start in January 2024, but there is flexibility with this.
For more detailed information about the role, charity and team, take a look at the Recruitment Pack.
Recruitment timetable
We aim to follow the schedule outlined below:
Applications opens: 22 November 2023
Applications closes: 10 December 2023, 11:59pm
Shortlisting: 11 December 2023
Interviews: 15 December 2023 (in person in London)
If there are any adjustments that would help you engage with the recruitment process, please let us know.
​We actively encourage applications from those with lived experience of neuroblastoma and/or other childhood cancers. As an equal opportunity employer, we also welcome applications from all suitably qualified candidates, regardless of age, disability, gender, gender reassignment, marriage/civil partnership, pregnancy, maternity, race, religion or belief, sex or sexual orientation.
As a safeguarding charity whose work and practice are underpinned by safeguarding principles to protect children and young people and enhance their welfare, we always work in accordance with legislation, statutory guidance, and best safeguarding practices. All our roles require a basic criminal record check.
More about Solving Kids' Cancer UK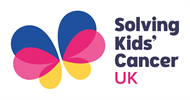 Solving Kids' Cancer UK is a small but mighty charity with children firmly at its heart. We are fighting for a future where no child dies o...
Read more
Posted on:
22 November 2023
Closing date:
10 December 2023 at 23:59
Job ref:
Community and Events Fundraising Officer
Tags:
Fundraising,Marketing
The client requests no contact from agencies or media sales.
Does something look incorrect in this job listing?
Results include remote roles
Filter by workplace to select only on-site or hybrid roles