3
Direct Marketing Coordinator Jobs in Belfast
How's your job search experience on our site?
Your feedback can help us improve in the future.
Job description
Community and Events Fundrasising Officer
We are looking for an enthusiastic individual with a can-do attitude to help us deliver our exciting Community and Events Fundraising programme. No previous fundraising experience is required, just an organised individual with a knack for building relationships, a passion for exceptional 'customer service' and a drive for uniting communities and raising money for charitable causes.
You'll work within the charity's passionate Fundraising and Engagement Team to raise funds to support children and families affected by the childhood cancer neuroblastoma and our vision, for a future where no child dies of neuroblastoma or suffers due to the treatment they receive.
This extremely rewarding role would suit anyone looking to take their first step in their fundraising, marketing or charity career. Don't think your experience directly aligns? Don't worry; we're interested in transferable skills and attitude, so consider and show us how these apply to this role.
Summary of role responsibilities
To help deliver the charity's Community and Events Fundraising Programme, including special events, community fundraising, challenge events, individual giving, and fundraising appeals.
To ensure excellent supporter and donor care and build long-term valued relationships to optimise income generation.
This is a fixed-term role offered on a one-year contract. We are looking for the successful candidate to ideally start in January 2024, but there is flexibility with this.
For more detailed information about the role, charity and team, take a look at the Recruitment Pack.
Recruitment timetable
We aim to follow the schedule outlined below:
Applications opens: 22 November 2023
Applications closes: 10 December 2023, 11:59pm
Shortlisting: 11 December 2023
Interviews: 15 December 2023 (in person in London)
If there are any adjustments that would help you engage with the recruitment process, please let us know.
​We actively encourage applications from those with lived experience of neuroblastoma and/or other childhood cancers. As an equal opportunity employer, we also welcome applications from all suitably qualified candidates, regardless of age, disability, gender, gender reassignment, marriage/civil partnership, pregnancy, maternity, race, religion or belief, sex or sexual orientation.
As a safeguarding charity whose work and practice are underpinned by safeguarding principles to protect children and young people and enhance their welfare, we always work in accordance with legislation, statutory guidance, and best safeguarding practices. All our roles require a basic criminal record check.
More about Solving Kids' Cancer UK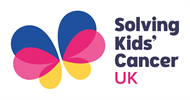 Solving Kids' Cancer UK is a small but mighty charity with children firmly at its heart. We are fighting for a future where no child dies o...
Read more
Posted on:
22 November 2023
Closing date:
10 December 2023 at 23:59
Job ref:
Community and Events Fundraising Officer
Tags:
Fundraising,Marketing
The client requests no contact from agencies or media sales.
Does something look incorrect in this job listing?

£23,220 - £29,853 per year pro-rata (£38,700 - £49,755 FTE)
Part-time (7.5 hours a day / flexible options)
Job description
This new role will be the organisation's key lead on the systems, policies, procedures and training that support the smooth running of our operations, including a focus on CRM, People, IT and procurement.
Operations: On the Operations side, you'll be responsible for the policies, procedures, systems and internal training that ensure the smooth running of our non-profit. You'll be the organisational lead for managing our CRM database to ensure it is maintained accurately and fully to support wider organisational activity with the support of our team of co-ordinators based around the world. You'll also manage other operational systems like IT security, data privacy, document management and business continuity.

People: On the People side, this is a varied role across the HR disciplines from recruitment, induction, colleague training and development, employee relations and internal communications.
You will work from home in the UK, and will join a friendly, supportive and committed global team, and contribute towards creating systemic change.
Who you are:
An experienced operations professional with strong experience in developing and maintaining robust operations systems, including CRM, HR, IT, data protection, governance, business continuity, procurement and supplier management

An engaging and empathetic people manager with experience in recruitment, induction, handling employee relations and internal communications

A great organiser, with the ability to set and meet targets and deadlines, and to hold others accountable to those

Excellent interpersonal skills to build trust and rapport with colleagues across the UK and global teams

Comfortable in a multi-disciplined role with varied projects running concurrently

A motivated and enthusiastic worker, able to work independently and with remote colleagues/stakeholders

A confident trainer, motivated by delivering internal training to build colleague knowledge and skills

UK-based with eligibility to work in the UK
You will work remotely, but in close cooperation with the co-CEOs and rest of the team with regular opportunities to catch up online and face to face.
Who we are: Stronger Together is an impact driven, not for profit organisation providing businesses with practical training, resources, business services and collaborative programmes to create a world where all workers are recruited responsibly and have fair work free from exploitation. Read more about our story on our About Us page.
What we can offer you
A permanent, part-time (0.6 FTE) contract with an initial six-month probationary period

Competitive salary (salary band £23,220 - £29,853 gross annually pro rata, £38,700 - £49,755 full-time equivalent) and enhanced employee benefits

Being part of a growing, innovative, and exciting not for profit organisation

A friendly global team which is passionate about and committed to fair work, responsible recruitment and systemic change

Flexible and family-friendly working arrangements

Working from home (UK-based), with regular in person and online meetings and social team gatherings

Employer Pays Principle employer – the full costs of recruitment are covered by Stronger Together in accordance with the ILO Definition of Recruitment Fees and Related Costs.
More about Stronger Together

Stronger Together is an impact driven, not for profit organisation providing businesses with practical training, resources, business services a...
Read more
Posted on:
27 November 2023
Closing date:
11 December 2023 at 12:00
Tags:
Human Resources,Operations
Does something look incorrect in this job listing?
Job description
Job Title: Service Development and Evaluation Officer
Salary: £30,282FTE (£18,169.20 Pro Rata)
Working Hours: Part Time - 21 hours per week - flexible to include Tuesdays
Location: Home based remote working, UK based only
Benefits: NCT membership with access to exclusive benefits, pension scheme, 30 days annual leave (24 days pro rata) plus 8 bank and public holidays
About us at the NCT
A lot of people know NCT for our antenatal classes, and we want to continue to support as many parents and families as we can to access evidence-based information. But we are also much more than this. We are a charity that campaigns on the issues that matter to parents. We run breastfeeding and infant feeding support, provided by specialist counsellors. We run thousands of free community activities and events across the UK, led by our fantastic volunteers. And we support women and families facing specific challenges, such as social isolation, feeding difficulties or poor mental health.
About the role
We have an exciting opportunity for a Service Development and Evaluation Officer to work in our busy Service Development Team. This role supports the charity in its aim of providing an excellent service for every parent by gathering, monitoring and analysing parent feedback of our services. The role can be varied and involve working across multiple teams providing insight and data to continually improve services for parents.
The successful candidate can be based anywhere within the UK with this remote opportunity. We are looking for someone with good analytical skills who can communicate their findings to a variety of audiences. You would work closely with the Service Development Manager and Head of Service Development.
Responsibilities:
Course evaluation:
· Design and implement evaluation and reporting tools across a range of services to assess quality, outcomes and impact, of our paid for courses, working closely with service delivery teams.  
· Respond to queries about the course evaluation and parent feedback process from parents, NCT staff and NCT practitioners. 
Research Design:
· Act as a source of expertise on data collection, analysis, and reporting for colleagues across the organisation. 
· Develop approaches to piloting and evaluating new or adapted models of service delivery as part of the service development team. 
Data Analysis:
· Select the most appropriate quantitative or qualitative methods to collect analyse and report data
· Conduct quantitative and qualitative data analysis and reporting to guide individual and service-level quality and development improvement work.
· Mine NCT's internal data and evidence and develop new approaches to capturing parent insight in collaboration with teams across the organisation to ensure that parents' experiences and views underpin the organisation's work.
Reporting
· Build and maintain reports and reporting processes to ensure timely availability of actionable insight to inform service delivery, quality assurance and improvement.  
· Communicate parent insight and contribute to monthly reports for directors.
· Build and develop a clear evidence base to underpin NCT's work, including practitioner development, service quality and innovation.
Data Collection
· Collect parent feedback using NCT's IT systems to extract client information, ensuring data is accurate and GDPR compliant.
· Building rapid testing surveys using the most appropriate datasets and questions to inform market research across the organisation
· Use qualitative and quantitative methods to gain insight about our services to inform development work.
IT
· Adapt processes as NCT integrates with developing IT systems while maintaining data integrity and accuracy
What are we looking for?
You would be a great fit for this role if you have strong Microsoft Excel skills so that you can successfully navigate and analyse data. You need to be highly organised and efficient using your excellent IT skills to complete tasks in a timely manner. As well as excel you will need to be proficient using collaborative working across the Teams/Sharepoint ecosystem. You will be comfortable speaking with colleagues both 1:1 and contributing to Team discussions and be able to work on your own initiative to get tasks completed.
Please visit our website and refewre to the description and further information
What we offer
We can offer flexible working based on the requirements of the role. Talk to us during the interview process to discuss your individual circumstances.
We are taking positive action to increase diversity throughout our organisation, at all levels, and to nurture a culture of inclusion for all our people and the parents and families that we support. More details about our Equity, Diversity and Inclusion action can be found here.
We are committed to zero discrimination both internally and externally regardless of visible or invisible difference such as sex, sexual orientation, age, race, ethnicity, disability, impairment, learning difference or long-term condition, religion or belief, gender identity, economic class, marital/civil partnership, family status including single parents, socio-economic background and pregnancy and maternity. We provide reasonable adjustments and are committed to an inclusive and accessible recruitment process.
We welcome and actively encourage applications from all candidates including those from under-represented groups within NCT such as individuals from Black, Asian or minority ethnic backgrounds, LGBTQI+ people and people with a disability.

The welfare and safety of individuals is at the heart of everything that we do. NCT is committed to safeguarding and promoting the welfare of children and adults and expects all staff to share this commitment.
Please apply for the role via our careers page .You can Also find further details and information on our website at NCT.
Closing date for applications: Noon, 18th December 2023
Interview dates: 3rd and 4th January 2024
Interview format: Virtual video call – flexible around your working day
More about National Childbirth Trust

We're here to support parents. We give them accurate, impartial information so that they can decide what's best for their family, and...
Read more
Posted on:
05 December 2023
Closing date:
18 December 2023 at 12:00
Job ref:
Service Development and Evaluation Officer
The client requests no contact from agencies or media sales.
Does something look incorrect in this job listing?
Results include remote roles
Filter by workplace to select only on-site or hybrid roles