2
Front Of House Coordinator Jobs in Liverpool
How's your job search experience on our site?
Your feedback can help us improve in the future.
Job description
About the role
Our highly committed Regional Casework Coordinators are SSAFA's front line of support for members of the armed forces community in need. They are the first point of contact for all beneficiaries into the North East England & Yorkshire Regional Office, assessing needs and allocating the case to one of our volunteer caseworkers.
You will sometimes handle complex problems from individuals who may be distressed, identifying the presenting and potential underlying needs to determine the best way to support the beneficiary. You will have ownership of cases from beginning to end, coordinating the casework process in a timely manner and ensure that the beneficiary journey is at the centre of the Service. You will have the opportunity to shape processes and procedures within the office which will lead to improvements in the service offered to clients.
To help you establish yourself in this new post you will receive excellent training and induction to SSAFA.
Whilst the post is homebased, to be eligible for this role you are required to live in the North East England or Yorkshire region, which includes the North, South, East and West of Yorkshire, and Teesside, County Durham, Tyne & Wear and Northumberland. There will be occasional travel around these areas and you may be required to travel at short notice for face to face meetings.
About the team
The team work remotely and pride themselves in maintaining a close working bond which ensures the smooth operation of the office. You will work closely with volunteers from the eight SSAFA branches in these regions, supporting them to administer casework for SSAFA beneficiaries. The wider support team includes two Casework Managers and a Regional Operations Support Manager.
About you
To carry out this role successfully you will have a track record of providing welfare advice in key areas such as, housing benefits, debt, disability, mobility or immigration issues. You will have knowledge of safeguarding and GDPR, along with experience in dealing with sensitive information and people in vulnerable situations. You will be able to provide excellent customer service by telephone, e-mail and face to face. You will have used Microsoft Office 365 to a high standard. It is important that you have experience of planning and managing your own workload, with minimal supervision. of SSAFA
It would be advantageous if you have an understanding of the way of life for today's Armed Forces, veterans and their families, along with supporting volunteers. An understanding of the voluntary sector and preferably the military charity sector landscape across the North East & Yorkshire would be valuable.
About SSAFA
SSAFA, the Armed Forces charity, has been providing practical, emotional, and financial support to our Forces, veterans and their families since 1885. Last year our teams of volunteers and employees helped more than 79,000 people in need, from Second World War veterans to those who have served in more recent conflicts or are still currently serving, and their families.
SSAFA understands that behind every uniform is a person. We are here for that person – any time they need us, in any way they need us, for as long as they need us.
Diversity and Inclusion at SSAFA
SSAFA exists to support a diverse range of beneficiaries within the armed forces community, and we believe diversity within our teams is key to ensuring we can deliver our services effectively. We thrive on differences and believe it is critical to our success as a worldwide charity. SSAFA is proud to be an equal opportunity workplace that seeks to recruit, develop and retain the most talented people from a variety of backgrounds, perspectives, and skill sets. We therefore encourage applications from all genders, races, religions, ages and sexual orientations, as well as parents, veterans, people living with disabilities, and any other groups that could bring diverse perspectives to our business.
SSAFA is committed to using the Disclosure & Barring Service to ensure we, as an employer, safeguard those we serve.
Refreshed on:
09 December 2023
Closing date:
19 December 2023 at 23:59
Tags:
Advice, Information,Support Worker
Does something look incorrect in this job listing?
Job description
We are recruiting a Pause Coordinator to work in our Liverpool and Wirral Practice.
Pause Coordinators are key to the successful functioning of Pause Practices. They manage a wide and varied range of tasks, from the design and implementation of finance, data and performance monitoring systems, to event organising and high-level strategic management support. They are front facing and are the main point of contact for professionals, women and others in their system. This means they need to demonstrate excellent interpersonal and communication skills at all levels, as well as having a depth of understanding around the needs of the women and their presenting issues.
As a Pause Practice Coordinator, you will provide comprehensive administrative support and general assistance to the Pause Practice to enable staff to perform their duties effectively and efficiently.
The Coordinator has a vital role in ensuring the smooth running of the Pause Practice, where most of your colleagues will be out of the office a lot of the time.
This role needs someone well organised and enthusiastic, who pays close attention to detail. You'll be a big part of a small team, where everyone takes a flexible and collaborative approach to work, and is committed to improving outcomes for vulnerable women.
More about Pause Creating Space for Change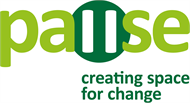 The number of children in care in the UK is rising every year, and there are many families that have multiple children removed from ...
Read more
Posted on:
20 November 2023
Closing date:
11 December 2023 at 00:00
Tags:
Admin,Advice, Information,Project Management,Operations
The client requests no contact from agencies or media sales.
Does something look incorrect in this job listing?
Results include remote roles
Filter by workplace to select only on-site or hybrid roles