1
Global Programme Operations Assistant Jobs in Nottingham
How's your job search experience on our site?
Your feedback can help us improve in the future.
Job description
Purpose
As we celebrate our 35-year anniversary, there has never been a better time to join our dynamic, friendly team working to further global health. As the HR and Operations Coordinator, you will work as part of the Finance and Operations team.
The HR & Operations Coordinator takes responsibility for all aspects of the administration for the charity, including supporting HR, Operations, and IT (with outsourced support) processes. This post plays a key role in ensuring the efficient management and upkeep of the charity's office. It is a very exciting time of growth for the charity which will see an increase in staff resources.
Main responsibilities
Human Resources
To be the first point of contact advising managers and staff including secondees on all general HR operational enquiries in adherence to THET's policies and procedures, legislation and best practice.
Supporting Senior Management on complex disciplinary, grievance, capability cases.
Coordinating recruitment campaigns and supporting the team in implementing the 2024 recruitment plans.
To support the learning and development function and needs arising from the appraisals process including the administration and co-ordination of internal training programmes.
To ensure HR Records are up to date, accurate and compliant with legislation including administration of the online system to record absence (sickness, holiday TOIL).
Provide departmental reports to the Senior Management Team when required.
Provide the monthly payroll data and liaise with the external payroll service provider to provide the smooth running of the monthly payroll.
To promote equality of opportunity in relation to the duties of the post.
Supporting the programmes team with compliance in Country Offices.
Information Technology
To support the HR & Operations Manager in the on-going development of THET's IT systems.
To support IT function and security of THET's electronic records.
To act as the main point of contact for the outsourced supplier.
Administration and Facilities
To provide general administrative support to the HR & Operations Manager ensuring the smooth running of the organisation.
To coordinate the recruitment and onboarding plans and delivery for new staff,
To coordinate ongoing HR contract administration and changes.
To facilitate the purchasing of staff IT and other work equipment in line with budget.
To coordinate the monthly payroll communication and approvals
To arrange and service internal and external office meetings.
To be the first point of contact with shared working space (office) provider and ensure facilities are currently accessed and utilised.
Assist the HR & Operations Manager in resource planning for additional capacity for THET projects
To be the main contact for Health & Safety for the UK office, developing and implementing the health and safety policy and ensuring that staff comply with this.
Together with the HR & Operations Manager, ensure that THET has appropriate insurance cover.
To undertake any other duties that may reasonably be requested by the SMT commensurate with experience and THET requirements.
If this opportunity appeals to you, then please do apply by sending your CV and a cover letter through the application link by midnight on Tuesday, 5th December 2023. If you have any questions or you would like an informal chat about the role, please contact Justine Nola.
This post is UK based. Non-EC nationals will require current and valid permission to work in the UK
More about THET (Tropical Health And Education Trust)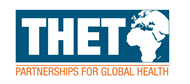 One billion people in the world do not have access to a qualified health worker. THET has a vision of a world where everyone h...
Read more
Posted on:
20 November 2023
Closing date:
05 December 2023 at 23:30
Tags:
Human Resources,Operations
The client requests no contact from agencies or media sales.
Does something look incorrect in this job listing?
Results include remote roles
Filter by workplace to select only on-site or hybrid roles