3
Head Of Helpline Jobs in Belfast
How's your job search experience on our site?
Your feedback can help us improve in the future.
Job description
Discipline: Care and Support
Job type: Permanent
Salary: £50,000 per annum + car allowance
Expiry date: 30 Dec 2023 23:59

Are you looking for a meaningful career? Would you like the opportunity to become a dedicated leader for our Day opportunities, helping individuals with learning disabilities live the best life possible?

We are looking for a Senior Day Opportunities Manager to lead our teams delivering the range of activity offerings across Hft Day Opportunities including Love 2 Meet U projects to enable adults with a learning disability to access appropriate outcomes-based community-based services that are Safe and Well Led.

Hft is a charity that supports adults with learning disabilities. We believe in a world where anyone with a learning disability can live within their community with all the choice and support they need to live the best life possible. We are looking for people who are naturally caring and compassionate and align with our values. Having a driving licence for this role is essential to travel extensively across all of Hft and where needed to stay away from home, work weekends and evenings.

We offer:

- Car Allowance: £320 per month
- Annual Leave: 33 days (including 8 days statutory bank holidays)
- Continuous Training: Access to award winning training and development
- Wagestream: Allows you to flexibly access your pay throughout the month and utilise a range of financial support, through its dedicated app.
- Aviva Digicare + workplace: Access to wellbeing services including health checks, Digital GP and mental health support.
- TELUS health: A 24/service, completely confidential counselling and support platform and helpline that is free for all colleagues to use.
- Discounted mobile 'phone contracts: As an Hft employee, you'll be able to take advantage of Vodafone's Employee Advantage programme, giving you up to 30% off.
- Care Friends: Employee referral app - earn money for referring your friends to work for Hft.
- Free life assurance: 3 x your annual salary
- Family friendly policies: term time only contracts, part time, annualised and compressed hours. Generous return to work bonus following maternity leave.

What will you be doing?

You will

- be coaching, give direction, guidance and support to your teams.
- have operational line management of a dedicated team which includes Day Opportunity Managers (DOMs) and Deputy Day Opportunity Managers (DDOMs). In locations where size and complexity of the Day Opportunity service does not warrant a Manager a Deputy Manager will be in place within the structure and you will be required to have a more hands on role supporting the Deputy with, for example, verification of audits and with the management of people issues such as disciplinaries.
- support with the development of day opportunity policies and quality standards and be accountable for embedding a quality framework, applying strategy and delivering complex projects.
- network and exchange complex or sensitive information with senior leaders and Chief Officers in a way that shapes outcomes.
- help shape the strategic direction of the Care & Support Portfolio by putting agreed strategies into practice. You will be accountable for developing and communicating their strategy and performance plans which will support the successful delivery of day opportunities.
- help resolve the most complex care & support problems and issues. They will be required to be solutions focused and have a proactive approach to complaint resolution; and to analyse and interpret management information and policy, applying this collaboratively to resolve issues.
- be an accountable performance manager leading their team's performance delivery against all operational KPIs and metrics and will be accountable for all day opportunity service delivery including referrals and growth including their team's delivery of care & support which promotes dignity, wellbeing and independence and a person-centred culture.
- be build influential relationships with all colleagues and external contacts (such as Commissioners, Trustees, Donors and Partners). The SDOM will be required to network and share best practice and actively contribute to the wider Care & Support national senior management team and to liaise with Hft's Partnership Forum, Colleague Inclusion Groups and Voices to be Heard Representatives.

You may be required to

- deputise for the Head of Day & Work Opportunities including cover for their annual leave or unplanned absences and may be required to attend senior leadership team meetings such as Hft's Senior Leaders performance delivery group.
- take on a lead role as agreed with the Head of Day & Work Opportunities.

Expertise required:

You will hold a Level 5 Diploma in Leadership and Management for Adult Care or hold a level 3 diploma and be willing to undertake the level 5 apprenticeship qualification within an agreed reasonable timescale of 18 months as part of a development plan.

You will have extensive knowledge of

- legislation and guidance relating to adults with learning disabilities
- CQC regulations (desirable not essential)
- Safeguarding regulations
- Health and safety regulations
- Positive Behavioural Support management and techniques
- contracting, tenders and negotiations
- national benefit frameworks

For more information, please refer to the job description and person spec below.

Location: This is a national role working remotely with extensive travel to services.
Salary: £50,000 + car allowance

Apply Now

REF-209819
Posted on:
13 November 2023
Closing date:
10 December 2023 at 00:00
Does something look incorrect in this job listing?

Using Anonymous Recruitment
This organisation is using Anonymous Recruitment to reduce bias in the first stages of the hiring process. Our system keeps your personal information hidden until the recruiter contacts you.
Job description
Glaucoma UK is the charity for people with glaucoma. Our vision is to end preventable glaucoma sight loss. We want everyone with glaucoma to be able to live well with the condition.
It couldn't be a more exciting time to join our team. We have just developed a new Theory of Change and we are now embarking on a period of growth. With an estimated 700,000 people in the UK living with glaucoma – but only half of them
knowing it – we want, and need, to do more. We want to fund more research, raise more awareness and help more people. And that is where you can make a real difference.
There is no cure for glaucoma. Sight loss from the disease cannot be reversed. Eye drop treatments can be painful and awkward and can cause more distress than the disease itself. There are many different treatment options and making decisions can be confusing and difficult. By providing a range of accessible and effective support services, we want to play our part in helping people to live and stay well with glaucoma.
As Training and Engagement Officer (Southern England), you'll join our team of three other Training and Engagement Officers covering Northern England, Scotland/Wales and Northern Ireland. Across your region, you will be responsible for delivering our new, aspirational strategy by:
• Hearing and being the voice of people with glaucoma across your region;
• Providing support for people with glaucoma, potentially including support groups, conferences or working with local organisations to enable them to provide support;
• Raising awareness of glaucoma, particularly amongst high risk groups;
• Training and collaborating with professionals who work with people with glaucoma.
Your high quality delivery of these services is central to our success is key in this role. You will work closely with colleagues in the wider Support Services team, including the helpline, professional engagement and health information. You will also be involved with the Communications team, especially during public awareness raising campaign weeks.
You will deliver Glaucoma UK's outreach, training and engagement strategy in the South of England, including raising awareness among the general public, providing services for people affected by glaucoma and delivering training to health care professionals.
Position: Training and Engagement Officer (Southern England)
Responsible to: Development Manager
Location: Home-based, with regular travel across service area & occasional trips to the charity's Head Office in Ashford,
Kent
Hours: Full-time, 35 hours per week - core hours of 10am–4pm
Salary: £30,210 per annum
Annual leave and benefits
25 days holiday per annum, plus Bank Holidays
Benenden Healthcare cover
24/7 Employee Assistance Programme
Up to 5% contributory pension
Enhanced maternity & paternity pay
Funded support for learning and development
How to apply: Click the Quick Apply button below. You'll be asked to submit a CV, covering letter, and answer a screening question.
Interviews will take place on Thursday 14 December 2023 or the morning of Friday 15 December 2023 remotely via Microsoft Teams and interested candidates are urged to keep these times free. We will be in touch with shortlisted applicants by 6.00pm on Monday 11 December 2023
Closing date: 11.30pm Sunday 10 December 2023
What you'll be working on:
Providing community support to individuals living with glaucoma, including establishing support groups, attending eye clinics, hosting patient conferences, encouraging the use of our information booklets and giving talks about glaucoma and Glaucoma UK.
Delivering training to eye care professionals covering the nature of glaucoma, difficulty with eye drop adherence, eye drop dispensing aids and other treatments.
Working with the Development Manager to deliver a programme of digital support, including arranging and hosting webinars, virtual support groups and other methods of online group engagement.
Gathering regional insights about under-represented communities that are at higher risk of developing glaucoma-related sight loss.
Working to raise awareness of glaucoma and Glaucoma UK among higher risk communities, and encourage regular eye tests, adherence to treatment and uptake of our services.
Assisting the Development Manager in developing and maintaining partnerships with appropriate regional health agencies and other sight sector organisations.
Acting as a point of contact for local organisations who are working to support people living with glaucoma.
Providing feedback and insights to improve the effectiveness of existing services across the charity and contribute to the development of new initiatives as appropriate.
Using Glaucoma UK's communication systems and social media to promote regional events to maximise take-up and participation, particularly among high-risk groups.
Writing articles as required about the charity's outreach work for Glaucoma UK's newsletters, social media and other relevant publications.
Working with the Fundraising and Membership Team to ensure that outreach activity supports fundraising and membership recruitment where appropriate.
Ensuring outreach services encourage patient involvement in research projects where appropriate.
Liaising with volunteers as required to support the delivery of outreach services.
This job is for you if you have.....
the ability to develop and manage a variety of relationships with different stakeholders
excellent networking and relationship building skills to work well collaboratively
strong written and verbal communication skills, able to engage and influence a range of audiences
good facilitation skills and confidence in presenting to a range of audiences, including patients and professionals, digitally and face-to-face
problem solving ability to identify the needs of different stakeholders and provide relevant support and advice
empathy to understand the challenges and experience of people living with glaucoma and the eye health professionals working to support them
confidence in using Microsoft Office and operating in a digital environment, including use of social media to raise awareness locally
enthusiasm, and are pro-active, organised, able to take initiative and work autonomously and as part of a collaborative, supportive team.
good numeracy skills, able to collect and collate data, and apply learnings to future work.
flexibility to travel across the area of service with occasional out of office hours and overnight stay
More about Glaucoma UK
Glaucoma UK is the charity for people with glaucoma. Our vision is to end preventable glaucoma sight loss. We want everyone with glaucoma to be...
Read more
Refreshed on:
28 November 2023
Closing date:
10 December 2023 at 23:30
Tags:
Advice, Information,Training
The client requests no contact from agencies or media sales.
Does something look incorrect in this job listing?
Job description
Community and Events Fundrasising Officer
We are looking for an enthusiastic individual with a can-do attitude to help us deliver our exciting Community and Events Fundraising programme. No previous fundraising experience is required, just an organised individual with a knack for building relationships, a passion for exceptional 'customer service' and a drive for uniting communities and raising money for charitable causes.
You'll work within the charity's passionate Fundraising and Engagement Team to raise funds to support children and families affected by the childhood cancer neuroblastoma and our vision, for a future where no child dies of neuroblastoma or suffers due to the treatment they receive.
This extremely rewarding role would suit anyone looking to take their first step in their fundraising, marketing or charity career. Don't think your experience directly aligns? Don't worry; we're interested in transferable skills and attitude, so consider and show us how these apply to this role.
Summary of role responsibilities
To help deliver the charity's Community and Events Fundraising Programme, including special events, community fundraising, challenge events, individual giving, and fundraising appeals.
To ensure excellent supporter and donor care and build long-term valued relationships to optimise income generation.
This is a fixed-term role offered on a one-year contract. We are looking for the successful candidate to ideally start in January 2024, but there is flexibility with this.
For more detailed information about the role, charity and team, take a look at the Recruitment Pack.
Recruitment timetable
We aim to follow the schedule outlined below:
Applications opens: 22 November 2023
Applications closes: 10 December 2023, 11:59pm
Shortlisting: 11 December 2023
Interviews: 15 December 2023 (in person in London)
If there are any adjustments that would help you engage with the recruitment process, please let us know.
​We actively encourage applications from those with lived experience of neuroblastoma and/or other childhood cancers. As an equal opportunity employer, we also welcome applications from all suitably qualified candidates, regardless of age, disability, gender, gender reassignment, marriage/civil partnership, pregnancy, maternity, race, religion or belief, sex or sexual orientation.
As a safeguarding charity whose work and practice are underpinned by safeguarding principles to protect children and young people and enhance their welfare, we always work in accordance with legislation, statutory guidance, and best safeguarding practices. All our roles require a basic criminal record check.
More about Solving Kids' Cancer UK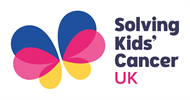 Solving Kids' Cancer UK is a small but mighty charity with children firmly at its heart. We are fighting for a future where no child dies o...
Read more
Posted on:
22 November 2023
Closing date:
10 December 2023 at 23:59
Job ref:
Community and Events Fundraising Officer
Tags:
Fundraising,Marketing
The client requests no contact from agencies or media sales.
Does something look incorrect in this job listing?
Results include remote roles
Filter by workplace to select only on-site or hybrid roles