3
Advice And Outreach Manager Jobs in Nottingham
How's your job search experience on our site?
Your feedback can help us improve in the future.

Using Anonymous Recruitment
This organisation is using Anonymous Recruitment to reduce bias in the first stages of the hiring process. Our system keeps your personal information hidden until the recruiter contacts you.
Job description
Glaucoma UK is the charity for people with glaucoma. Our vision is to end preventable glaucoma sight loss. We want everyone with glaucoma to be able to live well with the condition.
It couldn't be a more exciting time to join our team. We have just developed a new Theory of Change and we are now embarking on a period of growth. With an estimated 700,000 people in the UK living with glaucoma – but only half of them
knowing it – we want, and need, to do more. We want to fund more research, raise more awareness and help more people. And that is where you can make a real difference.
There is no cure for glaucoma. Sight loss from the disease cannot be reversed. Eye drop treatments can be painful and awkward and can cause more distress than the disease itself. There are many different treatment options and making decisions can be confusing and difficult. By providing a range of accessible and effective support services, we want to play our part in helping people to live and stay well with glaucoma.
As Training and Engagement Officer (Southern England), you'll join our team of three other Training and Engagement Officers covering Northern England, Scotland/Wales and Northern Ireland. Across your region, you will be responsible for delivering our new, aspirational strategy by:
• Hearing and being the voice of people with glaucoma across your region;
• Providing support for people with glaucoma, potentially including support groups, conferences or working with local organisations to enable them to provide support;
• Raising awareness of glaucoma, particularly amongst high risk groups;
• Training and collaborating with professionals who work with people with glaucoma.
Your high quality delivery of these services is central to our success is key in this role. You will work closely with colleagues in the wider Support Services team, including the helpline, professional engagement and health information. You will also be involved with the Communications team, especially during public awareness raising campaign weeks.
You will deliver Glaucoma UK's outreach, training and engagement strategy in the South of England, including raising awareness among the general public, providing services for people affected by glaucoma and delivering training to health care professionals.
Position: Training and Engagement Officer (Southern England)
Responsible to: Development Manager
Location: Home-based, with regular travel across service area & occasional trips to the charity's Head Office in Ashford,
Kent
Hours: Full-time, 35 hours per week - core hours of 10am–4pm
Salary: £30,210 per annum
Annual leave and benefits
25 days holiday per annum, plus Bank Holidays
Benenden Healthcare cover
24/7 Employee Assistance Programme
Up to 5% contributory pension
Enhanced maternity & paternity pay
Funded support for learning and development
How to apply: Click the Quick Apply button below. You'll be asked to submit a CV, covering letter, and answer a screening question.
Interviews will take place on Thursday 14 December 2023 or the morning of Friday 15 December 2023 remotely via Microsoft Teams and interested candidates are urged to keep these times free. We will be in touch with shortlisted applicants by 6.00pm on Monday 11 December 2023
Closing date: 11.30pm Sunday 10 December 2023
What you'll be working on:
Providing community support to individuals living with glaucoma, including establishing support groups, attending eye clinics, hosting patient conferences, encouraging the use of our information booklets and giving talks about glaucoma and Glaucoma UK.
Delivering training to eye care professionals covering the nature of glaucoma, difficulty with eye drop adherence, eye drop dispensing aids and other treatments.
Working with the Development Manager to deliver a programme of digital support, including arranging and hosting webinars, virtual support groups and other methods of online group engagement.
Gathering regional insights about under-represented communities that are at higher risk of developing glaucoma-related sight loss.
Working to raise awareness of glaucoma and Glaucoma UK among higher risk communities, and encourage regular eye tests, adherence to treatment and uptake of our services.
Assisting the Development Manager in developing and maintaining partnerships with appropriate regional health agencies and other sight sector organisations.
Acting as a point of contact for local organisations who are working to support people living with glaucoma.
Providing feedback and insights to improve the effectiveness of existing services across the charity and contribute to the development of new initiatives as appropriate.
Using Glaucoma UK's communication systems and social media to promote regional events to maximise take-up and participation, particularly among high-risk groups.
Writing articles as required about the charity's outreach work for Glaucoma UK's newsletters, social media and other relevant publications.
Working with the Fundraising and Membership Team to ensure that outreach activity supports fundraising and membership recruitment where appropriate.
Ensuring outreach services encourage patient involvement in research projects where appropriate.
Liaising with volunteers as required to support the delivery of outreach services.
This job is for you if you have.....
the ability to develop and manage a variety of relationships with different stakeholders
excellent networking and relationship building skills to work well collaboratively
strong written and verbal communication skills, able to engage and influence a range of audiences
good facilitation skills and confidence in presenting to a range of audiences, including patients and professionals, digitally and face-to-face
problem solving ability to identify the needs of different stakeholders and provide relevant support and advice
empathy to understand the challenges and experience of people living with glaucoma and the eye health professionals working to support them
confidence in using Microsoft Office and operating in a digital environment, including use of social media to raise awareness locally
enthusiasm, and are pro-active, organised, able to take initiative and work autonomously and as part of a collaborative, supportive team.
good numeracy skills, able to collect and collate data, and apply learnings to future work.
flexibility to travel across the area of service with occasional out of office hours and overnight stay
More about Glaucoma UK
Glaucoma UK is the charity for people with glaucoma. Our vision is to end preventable glaucoma sight loss. We want everyone with glaucoma to be...
Read more
Refreshed on:
28 November 2023
Closing date:
10 December 2023 at 23:30
Tags:
Advice, Information,Training
The client requests no contact from agencies or media sales.
Does something look incorrect in this job listing?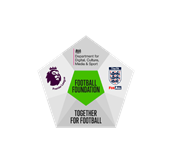 £26,000 - £30,000 per annum (dependent on relevant experience and skills) plus generous benefits
Job description
Technical Project Executive
£26,000 - £30,000 per annum (dependent on relevant experience and skills) plus generous benefits
We are the Football Foundation - the Premier League, the FA and government's charity that delivers outstanding grassroots facilities, more and better places to play, transforming lives and communities where it is needed most.
To help us with this important mission, we currently have a vacancy for a Technical Project Executive. Supporting within the Technical function of the Grant Management Team, you will assist with the scrutiny of the technical/construction aspects of capital grant projects ensuring the successful completion of new and improved sport facilities. You will work in collaboration with partner organisations to provide professional advice and guidance to applicants to assist with the development of capital projects, both at grass-roots level and within the Football League and National League system.
This is an exciting opportunity to use your professional experience in construction to help improve lives and strengthen communities through grassroots football.
About the Football Foundation
Over the last 22 years, the Foundation has awarded more than 23,000 grants to deliver outstanding grassroots facilities across England worth more than £877 million. This year, the Foundation will be investing more money than ever into facilities across England and is committed to improving the experience of playing football for everyone.
The Foundation's goal is to unlock the power of pitches ensuring everyone has a great place to play regardless of gender, race, disability or place.
What are we looking for?
You will be a newly qualified graduate, or a more experienced graduate looking for a different career path with a construction-related degree or professional qualification (for example architecture, building surveying, planning, civil engineering, quantity surveying, project management or construction management).
You must also have great people skills and the ability to work with people at all levels, from clients and suppliers to volunteers. We are looking for someone who can inspire and excite our applicants. You must be accurate, systematic, and flexible with the ability to juggle a wide range of activities.
You must hold a current, clean driving licence, have access to your own vehicle, and be willing to undertake site visits to be able to undertake the role.
We're looking for a team player with a keen attention to detail and strong organisational skills who takes pride in delivering excellent customer and administrative service.
You don't need to follow football to apply, but it is expected that you appreciate the power of sport to change lives and have a genuine interest in using your skills and experience to help the Football Foundation achieve our charitable and strategic objectives.
For more details about the role and full person specification, please download the recruitment pack.
What can we offer you?
The salary band for this role is £26,000 - £30,000 per annum, dependent on relevant skills and experience.
You will start on 25 days annual leave plus bank holidays (which increases after 2 years), plus additional time off to volunteer. We also offer a generous pension scheme (8% employer contribution), collective bonus scheme, free health care provision, a monthly gym subsidy, interest-free season ticket loan, death in service benefit and access to selected match tickets
We are committed to helping our team members maintain a healthy work-life balance, so offer flexible working around core hours to help achieve that.
Equality and Diversity Commitment
We request that all applicants complete our equal opportunities form as part of the application process. This anonymous and confidential form helps the Football Foundation to build up a picture of who is applying to join the organisation, and to monitor progress in this area. The link to complete this is in the application process.
The Football Foundation is committed to, and values the principles of diversity, equality, and inclusion. We strive to provide an inclusive and supportive working environment where all our team feel respected and supported in fulfilling their potential. We encourage and welcome applications from all, regardless of background and are particularly interested to hear from individuals belonging to under-represented groups including diverse ethnic communities, individuals with a disability and those from the LGBTQI+ community.
Should you need any adjustments to the recruitment process, at either application or interview stage, please contact us at jobs@ footballfoundation .org. uk
How do I apply?
To apply, please follow the steps outlined below:
1. Please send the following to jobs @footballfoundation. org .uk
o CV
o Cover letter - please highlight briefly and clearly how your skills, abilities and experience equip you for the role, together with your reasons for applying.
2. Complete an anonymous Equal Opportunities form which can be found on our webpage.
Click here to fill it out. Please only fill out one form when you apply. If you need any help, please let us know.
The closing date for applications is Thursday 30 November 9:00am.
Interviews are currently scheduled for 14 & 15 December.
Due to the volume of applications received for most roles, the Foundation only contacts candidates if they are shortlisted for interview. If you do not hear from us within two weeks of the closing date, you should assume your application has not been successful.
Please note that you must be eligible to work in the UK to apply.
More about The Football Foundation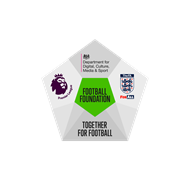 The Premier League, The FA and Government's Football Foundation is the largest sports charity in the UK. It champions an...
Read more
Posted on:
02 November 2023
Closing date:
30 November 2023 at 09:00
Tags:
Advice, Information,Project Management
Does something look incorrect in this job listing?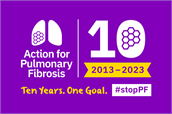 £31,000 to £35,000 for full-time equivalent (depending on experience)
Part-time (25 hours per week (0.67 full time equivalent) )
Job description
Support Network Coordinator (Midlands and SW)
25hrs per week (0.67 full time equivalent)
Home-based flexible working with travel
Purpose:
Are you adept at bringing people together, inspiring positive action, and passionate about making a difference to people affected by pulmonary fibrosis (PF)? In this vital role you will network, listen and learn, connect and facilitate across your region; bringing people and resources together to drive change. Your work will strengthen a vital network of support to really improve the lives of people affected by PF across the SW and Midlands.
Key stakeholders: Families living with pulmonary fibrosis (PF) Health and care professionals and bodies, APF staff and volunteers Organisers and other members involved in running support groups.
Reporting to: Regional partnerships manager
You will:
1. Extend our reach to the widest range of people with PF and family in the region
Build mutually supportive partnerships with healthcare professionals and support groups, nurturing systematic referrals to APF wherever possible
Coordinate outreach to priority clinics and groups with the support of volunteers, especially to those most in need or underserved groups
Plan and deliver or support regional events to bring stakeholders together, hear the voices of people affected by PF, raise awareness, educate and reach new people, in partnership with colleagues
Ensure a regular flow of news, stories and images, and that APF information about your region is up-to-date and accurate, including on the APF database, website, magazine and social media, so that more people know about support available
2. Build relationships and networks to work in partnership with and nurture a thriving, comprehensive PF support group network in the region so that everyone affected by PF in the regions has access to high quality support
Work to address gaps in provision by bringing people together to set up new groups (often healthcare professionals and/or people affected by PF)
Work to develop and improve support groups through supporting their planning, sharing good practice and nurturing peer support between groups
Identify potential volunteers and support them to learn about and take up opportunities within APF and support groups
3. Build relationships and networks to work in partnership with key health and care professionals and bodies in the region to enable people affected by PF to access the best possible care and support from the NHS, APF and other relevant providers
Work to address priority gaps/challenges in provision through influencing at a local/regional level on priority issues in partnership with the Policy and Public Affairs lead, Services leaders, and support groups. Sharing good practice, policy, evidence and being driven by the voices of people affected by PF.
4. Help join the dots between the regions and nationally organised functions of APF for maximum impact on the lives of people affected by PF:
Use your relationships and networks to understand the key issues for people with PF in the region, sharing this insight to inform the wider work of APF to make it as relevant as possible (information, education, policy and campaigns, volunteering development, communications and research)
Use resources and partnerships within (and beyond) APF to help address priority needs in the regions, for example to guide and resource support groups, regional campaigns around access to healthcare, education, information, volunteering support, research.
Support the overall success of our work for example by contributing to planning and strategy development, funding applications, supporting fundraising, monitoring and evaluating APF's work in your region and ensuring work is on target and on budget
Person Specification
Essential criteria
Excellent people skills: able to build rapport, coach and influence 1-2-1 and in groups
Able to connect with a wide range of people from a wide range of backgrounds
Passionate about tackling health inequality
Adept at building strong partnerships and networks (particularly with NHS)
Experience of support groups and/or working with volunteers (ideally in a health context)
Collaborative in your work with colleagues and partners, able to bring people along with you to achieve your aims and support theirs
A highly effective communicator both orally and in writing
Excellent facilitation and presentation skills, working with groups and speaking in public to motivate and inspire others
An understanding of the many challenges facing patients and carers living with pulmonary fibrosis (personal experience of PF is very helpful but not essential)
Confident IT skills for a modern digital workplace, remote working and databases
Highly organised in your work, able to plan and manage a range of priorities and drive your own workload
Able to work flexibly; can drive and regularly travel across your region, and occasionally elsewhere in the UK, including occasional weekends and evenings
Willingness to learn and to use support to manage the challenges of working with people going through very difficult times in their lives
Highly desirable criteria
14. Experience of co-creation and/or building/supporting networks
15. An understanding of data protection, safeguarding and fundraising standards
Diversity
Action for Pulmonary Fibrosis strives to be an organisation of equity and inclusion. Pulmonary Fibrosis does not discriminate. Our team should reflect the diverse communities we exist to support. We warmly welcome applications from all candidates irrespective of age, disability, race (including colour, nationality, ethnic or national origin), sex, pregnancy or maternity, gender reassignment, sexual orientation, religion or belief, or marital or civil partnership status.
Terms of Appointment
Contract: Permanent, part-time, 25 hours per week (0.67 full-time equivalent)
Salary Band: £31,000 to £35,000 for full-time equivalent (depending on experience)
Pension: Automatic enrolment to workplace pension, where APF contributes 3%, unless already an active member of a qualifying workplace pension.
Holiday: 25 days per holiday year plus bank holidays and additional discretionary days for the Christmas/New Year break (increases with length of service at 3 and 5 years). Salary sacrifice to buy or sell annual leave. All pro-rated
Location: Remote within Midlands & SW area (laptop provided), with extensive travel across the region and quarterly travel to head office in Peterborough, plus potential occasional travel elsewhere for conferences etc. Hybrid working options available.
Hours: Normal hours are 9.00am to 5.30pm with flexibility to maintain a good work/life balance.
Other benefits:
Flexible hours
Option to take 'time off in lieu' for extra hours worked.
Discounted gym membership
Free membership of our Employee Assistance Package
Individual training budget
Probationary and notice of termination periods: You will have an initial six-month probationary period during which notice is 1 week on both sides and then extending to two months thereafter.
More about Action for Pulmonary Fibrosis

Our vision, mission and values – drives everything we do.
APF's vision is to find a cure for pulmonary fibrosis s...
Read more
Posted on:
10 November 2023
Closing date:
30 November 2023 at 09:30
Job ref:
Support network coordinator Midlands+SW Nov23
Tags:
Advice, Information,Support Worker
The client requests no contact from agencies or media sales.
Does something look incorrect in this job listing?
Results include remote roles
Filter by workplace to select only on-site or hybrid roles