3
Intermediate Care Support Worker Jobs in London
How's your job search experience on our site?
Your feedback can help us improve in the future.
Job description
Account Manager, Donor Advised Fund, Philanthropy Services
£28k-£30kp.a. depending on skills and experience, (plus hybrid working and generous benefits)
As an Account Manager, your role will be to support the Senior Account Manager, as well as the wider Philanthropy Services team, serving High Net Worth donors in all aspects of their charitable giving and building relationships, with a particular focus on those sharing our Christian faith.
This is a role which gives an opportunity for someone who has strong administrative and, potentially, some finance skills, is happy to work in a support role, thrives on juggling tasks, and is quick to learn.
More about Stewardship

For over 100 years, we've helped Christians, charities and churches activate generosity, resource their calling and make a difference for t...
Read more
Posted on:
24 November 2023
Closing date:
11 December 2023 at 09:00
The client requests no contact from agencies or media sales.
Does something look incorrect in this job listing?
Job description
Executive Director
Complicité is an international touring theatre company and charity, under the creative leadership of Artistic Director and co-founder Simon McBurney.
We are seeking an entrepreneurial Executive Director to oversee and deliver the company's programme across a variety of artforms and build a business structure around it to ensure that it can continue its creative journey for decades to come.
Our ideal candidate will be an exceptional and versatile individual who will lead the company in delivering its artistic vision and create new opportunities for commercial income, based on the company's existing assets, specialist skills, international market positioning and our values.
Over four decades,Complicité has played in more than 40 countries and won more than 50 awards. Through our live productions, streamed work and education & engagement, millions of people have encountered the work of 'the most influential and consistently interesting theatre company working in Britain' (The Times).
"You might have worked all your life in theatre. You might be a theatre fan with business leadership experience. Your background might be in film, tech, marketing, management or education. You might be an innovator and leader in the commercial or charitable sector who knows and cares deeply about the company and its work. You will certainly have the entrepreneurial insight to see the company's potential with fresh eyes, to support its growth and develop its earning potential across established and emerging media and plot a course for its continued success." Tom Morris, Chair of Complicité
Salary: £60k - £70k pro rata, depending on experience
Contract: Permanent. The Company envisages the role to be full time but is open to a conversation about flexible working hours and to co-working arrangements. Evening and weekend work will be required to fit the company's production schedule, for which Time Off in Lieu is given.
Deadline: 12 noon on Friday 15th December 2023
A full job description and further information is available in the job pack. We recommend that candidates read the job pack before applying for this role.
HOW TO APPLY
Please find the Job Pack and Equality Monitoring Form attached below. Please upload your CV and a cover letter (no more than 3 sides of A4) outlining why you are suited to the role The closing date for applications is 12 noon on Friday 15 December 2023. We look forward to receiving your application.
More about Complicite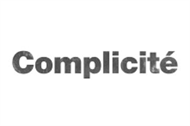 Complicité is an international touring theatre company based in London led by Artistic Director and co-founder Simon McBurney. Complicit...
Read more
Refreshed on:
27 November 2023
Closing date:
15 December 2023 at 12:00
Tags:
Business Development,Governance
The client requests no contact from agencies or media sales.
Does something look incorrect in this job listing?
Job description
ETI is a leading alliance of trade unions, NGOs, and companies, working together to advance human rights in global supply chains. We are hiring for a new Executive Director.
What does ETI do?
We convene and collaborate with key stakeholders to improve business transparency and accountability and bring about positive change. A critical friend, ETI provides practical solutions to end the abuse of human rights at work, to make workers' lives, and business, better.
ETI's vision is of a world of work that protects human rights, ensures dignity for all, provides opportunity and is free of exploitation and abuse. Our mission is to advocate for the most vulnerable workers, by harnessing the power of a diverse and growing membership. Through collaboration and innovation, ETI works to drive engagement, challenge barriers to change and ensure respect for human rights at work.
The role
We are seeking a new Executive Director to work with our Board of Directors and Chair on strategy formulation, planning, resourcing, operational performance, and governance of ETI. You will work closely with our Senior Management Team, representing the organisation and its work externally.
Interviews will take place at our London office in January 2024.
Posted on:
09 November 2023
Closing date:
09 December 2023 at 23:59
Tags:
Intl Development,Senior Management
The client requests no contact from agencies or media sales.
Does something look incorrect in this job listing?
Results include remote roles
Filter by workplace to select only on-site or hybrid roles